Podcast: Play in new window | Download
Subscribe: Google Podcasts | RSS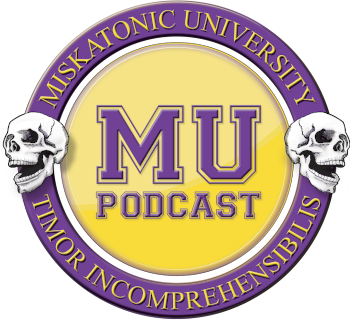 In this episode, Keepers Dave, Jon and Murph welcome Stu Horvath, co-host of the Vintage RPG Podcast and the puppet master of Unwinnable.com! Enjoy!
Noble Knight Games
We want to thank Noble Knight Games for sponsoring this episode. Noble Knight Games just completed a major revamp of their website! The new site is cleaner, prettier, easier to navigate with improved search functionality. Be sure to check out the Publisher's Spotlight section, too. Check it out at www.nobleknight.com.
Time is running out! Take advantage of our exclusive discount code: MADNESS, for a 10% discount from your entire purchase. Browse through thousands of new and vintage games and game books and expand your collection of your favorite games.
Campus Crier
The Campus Crier is the Miskatonic University's student newspaper. This edition was collected on December 1st, 2020.
Chaosium has released a new set of jigsaw puzzles over on their Redbubble store. The different puzzles include much of the iconic art from the company's run and includes many Call of Cthulhu and Runquest images. A number that are from the Berlin sourcebook that look really cool.
The first Apocthulhu book is available in POD! Keeper Dave got his contributor copy and it's huge and colorful and lovely in many apocalyptic shapes and sizes.
You can get Free League's At the Mountains of Madness from their store now! It's a beautifully illustrated book, Keeper Jon already has a copy and can attest to it.
Some news from Niels Hobbs and the Lovecraft Arts and Sciences Council that is pretty worrying for any of us that is hoping for a Necronomicon 2021. Niels has sent out an email and started a GoFundMe page to help cover expenses that have been incurred due to a lack of business because of COVID-19. He is asking for $30,000 in donations to help pay for rent, payroll, insurance, etc. Personally I have no issue helping them out and if I'm honest I feel a little bit guilty that I haven't bought more stuff from their online store in the past. As of recording he has raised roughly 1/3 of the total in about 12 hours. I really hope that this helps Niels out, and that this allows for the massive undertaking that is the planning for a conference like Necronomicon to proceed in the future. Personally, I can't imagine not going to Providence next year. It would seriously impact me if I was unable to go.
MUP Patreon
If you haven't heard yet, we have redesigned our Patreon and so far the feedback has been all positive! We are greatly appreciative of you, our listeners, and would ask that if you can please back us! Our next goal in funding will pay our worthy editors for their time! Also all backers, regardless of level will have access to the outtakes reel that we are going to put out on a special RSS feed from Patreon! To back us you can click the button on the sidebar of our website, mu-podcast.com or head over to Patreon directly at www.patreon.com/mup!
MUP Discord
MU Discord server invite link: https://discord.gg/vNjEv9D
Contact MUP Keepers
You can email the podcast, and give us a hearty "Go Pods!", at mup.feedback@gmail.com.
Main Topic
Download the episode and join us as we talk to Stu Horvath and his love of Call of Cthulhu campaign games.