Podcast: Play in new window | Download
Subscribe: Google Podcasts | RSS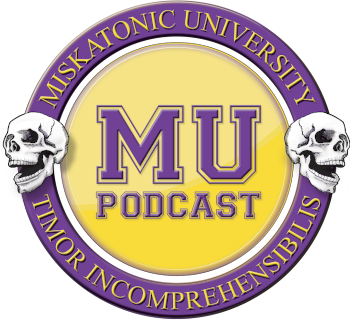 In this episode, Keepers Dave, Jon and Murph kick it old school… medieval even… as they go back to the Bestiary and talk about Golems! Enjoy!
Noble Knight Games
We want to thank Noble Knight Games for sponsoring this episode. Noble Knight Games just completed a major revamp of their website! The new site is cleaner, prettier, easier to navigate with improved search functionality. Be sure to check out the Publisher's Spotlight section, too. Check it out at www.nobleknight.com.
Also, it's that time of the year again… the holiday season is upon us. Running from November 11th to December 3rd is Noble Knight Games' annual holiday sale, with their lowest prices throughout the year. So remember, the holiday sale prices supersede the discount code normally available to Miskatonic University Podcast listeners, so go now and get those books that you've been waiting for.
Campus Crier
The Campus Crier is the Miskatonic University's student newspaper. This edition was collected on November 20th, 2020.
Paradox brings Vampire: The Masquerade tabletop game development back in-house, the company announced Thursday. This comes after Paradox yanked the product line from the then White Wolf company after many Alt-Right and LGBTQ+ worries arose from the 2018 Vampire 5th ed release. Paradox admitted to having little or no oversight of Whitewolf and gave the product line to Modiphius to develop. In the last two years Modiphius only released one product, Fall of London, in that time which tried to change game mechanics and mythology. So Paradox is now managing Vampire the Masquerade in house under the World of Darkness brand.
Chaosium is releasing the Alone Against The Tide PDF just in time for Thanksgiving for even more solo horror adventures. The PDF is less than $7.
There's not just one but TWO Symbaroum Bundles of Holding. Symbaroum is Free League's dark fantasy setting, and the bundles are for sourcebooks for the SYMBAROUM dark-fantasy tabletop roleplaying game, as well as all the Symbaroum Settings a GM needs for adventure in the primeval forest of Davokar.
Mike Diamond and the Old Ways Podcast are going to the Orient, specifically the Horror on the Orient Express. Mike shared a teaser video with us that will be available by the time this episode is released.
Our friend Bret Kramer at Sentinel Hill Press has released Miskatonic Country Scenarios – A Keeper's Guide. You can get it on DriveThru for $5.
It looks like Wizards of the Coast is being sued again this time by Gale Force 9 for failing to approve products already agreed to be released. This is basically the same case as the Dragonlance suit from a few months ago.
Bayt-al-Azif #3 is out! It's got a number of new scenarios, including 1920s, modern and 1960s; an interview with the Great Old One Sandy Petersen himself; as well as an article by friend of the show Dean Engelhardt. At 124 pages for $8 on DTRPG, it's well worth the purchase price. It has articles and scenarios by a whole bunch of new authors, and I think it's a great way to hook up with some fresh new content at a very reasonable price.
MUP Patreon
If you haven't heard yet, we have redesigned our Patreon and so far the feedback has been all positive! We are greatly appreciative of you, our listeners, and would ask that if you can please back us! Our next goal in funding will pay our worthy editors for their time! Also all backers, regardless of level will have access to the outtakes reel that we are going to put out on a special RSS feed from Patreon! To back us you can click the button on the sidebar of our website, mu-podcast.com or head over to Patreon directly at www.patreon.com/mup!
MUP Discord
MU Discord server invite link: https://discord.gg/vNjEv9D
Contact MUP Keepers
You can email the podcast, and give us a hearty "Go Pods!", at mup.feedback@gmail.com.
Main Topic
Download the episode and join us as we talk about how to use golems in your Call of Cthulhu games.