Podcast: Play in new window | Download
Subscribe: Google Podcasts | RSS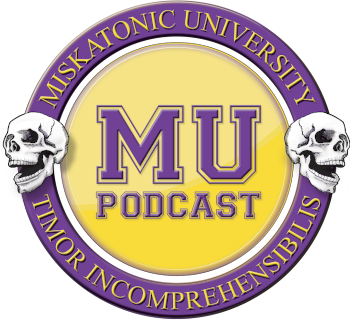 In this episode, Keeper Murph runs Keepers Dave and Jon through a quick game of Troika!
Noble Knight Games!
We want to thank Noble Knight Games for returning to sponsor our show. Noble Knight Games has just completed a major revamp of their website! The new site was designed after collecting lots of customer feedback, and the result is a site that's cleaner, prettier, easier to navigate with improved search functionality. Be sure to check out the Publisher's Spotlight section, too. Check it out at www.nobleknight.com.
Also, it's that time of the year again… the holiday season is upon us. Running from November 11th to December 3rd is Noble Knight Games' annual holiday sale, with their lowest prices throughout the year. So remember, the holiday sale prices supersede the discount code normally available to Miskatonic University Podcast listeners, so go now and get those books that you've been waiting for.
Campus Crier
The Campus Crier is where we keep all the mythos related news and info for the podcast, this episode was recorded on November 5th, 2020.
Chaosium has appointed ambassadors to both their Miskatonic Repository and Jonstown Compendium fan content communities. Allan Carey is the ambassador for the Miskatonic Repository, and Nick Brooke is the ambassador for the Jonstown Compendium. The ambassadors will be the first point-of-contact for fans looking to contribute new products to each of those platforms.
There's a new horror RPG on Kickstarter right now called Shiver. According to the Kickstarter, "SHIVER is a tabletop roleplaying game bringing tales of the mysterious, the peculiar and the strange to life." The Kickstarter is already more than 200% funded. It uses unique symbols on the dice to merge storytelling and game mechanics, and fans can download a free quickstart PDF to try the game before committing to the Kickstarter.
If you act quickly, you might still be able to back Alan Moore's Providence Compendium on Kickstarter. It is a giant 480 page graphic novel that fully collects all twelve issues of Alan Moore's Providence comic book series.
Artist François Baranger's next illustrated Lovecraft story is At the Mountains of Madness. It is being published by Free League Games, and is available now for preorder. François Baranger previously illustrated The Call of Cthulhu for Free League. At the Mountains of Madness will be produced in two volumes; volume one is currently available on preorder.
Gale Force 9 has updated their website to include more information about their soon-to-be released Aliens: Another Glorious Day in the Corps board game. A few review videos are starting to come out on YouTube, to include one by Shut Up & Sit Down. This new Aliens board game looks really cool. Keeper Jon can't wait for his copy to arrive.
The Dee Sanction is a new RPG on Kickstarter right now by Paul Baldowski, the writer of The Cthulhu Hack. I'm just going to quote their: "The Dee Sanction is a tabletop roleplaying game about serving Queen and country in the late Tudor period, in a time where kingdoms vie for power, the Church splinters under the pressure of reform, and creatures of folklore emerge from enforced hiding seeking revenge against those who imprisoned them. You're a bad person — sentenced to hang for dabbling in magic — given a chance to redeem yourself and earn freedom in service to Queen Elizabeth's newest line of defense."