Podcast: Play in new window | Download
Subscribe: Google Podcasts | RSS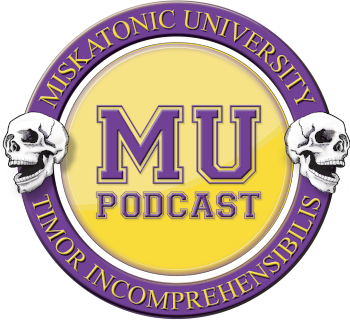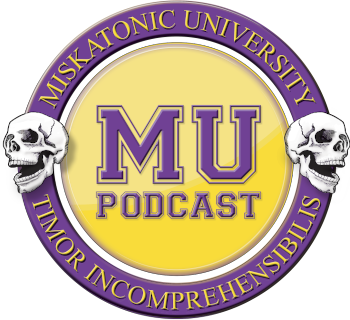 This episode, Keepers Dave, and Murph welcomes back, (for the "first" time), authors Jo Kreil and Dean Englehardt, where they discuss Mythos apocalypses and their new game, Apocthulhu. Enjoy!
Campus Crier
The Campus Crier is the Miskatonic University's student newspaper. This edition was collected on July 30th, 2020.
Just a quick note about programming here at MUP. As you might have noticed in the leadin we have expanded our coverage area. We at MUP have all been playing more and more games in the generic horror and dark fantasy genres recently, and we wanted to talk about those games on the show more often. So we will be. So expect some more talks about Alien RPG, Mork Borg, and Symbaroum in addition to our normal coverage of CoC, Delta Green, Gumshoe, etc. And expect our lead-in to shift as we find a new line that we can all live with. We don't think this will be that big of a shift for many of our listeners, but we wanted to be upfront and let you know.
There will be an Live Play of Harlem Unbound over at the Darker Hue Twitch channelthat has some pretty awesome talent lined up to play including Misha B, Ariel Celeste, Jennifer Kretchmer, Matthew Mercer, Quinn Murphy. You can watch the game August 16th at 2pm Eastern time on Twitch.
Chaosium released a surprise pair of scenarios on June 30th, just in time for GenCon2020. Does Love Forgive? provides users with a pair of one-on-one scenarios called "Love You To Death" and "Mask of Desire". Both scenarios were originally released earlier this year in Poland by authors Airis Kaminska and Anna Maria Mazur. The English version lists Lynne Hardy as author as well. This looks like an awesome pair of adventures and you can get the PDF from Chaosium.com and DriveThruRPG for $6.
Free League have announced a release date for the Alien RPG Starter Set and the Destroyer of Worlds setting! Both products will be available on September 8th! But you can pre-order them both now at the Free League store.
The Vaesen RPG has been released! I received my physical copy in the mail last week, and it is really nice. Anyone interested can now purchase the game from your favorite retailer. Free League also has a Live Play of the game that is going online July 31st. So check that out if you want to see how this is supposed to be run.
Lovecraftesque is looking for writers!
"Lovecraftesque Companion – call for writers – We are planning to publish a Lovecraftesque Companion, of scenarios, campaigns, essays and tools for Lovecraftesque, and perhaps other cosmic horror games. We want to hire diverse writers from around the world. You can express interest using a linked form."
For those who don't know it, Lovecraftesque is an awarding-winning GMless storytelling game of creeping cosmic horror. It is aimed at recreating the style and feel of Lovecraft, but with fresh horrors, and actively unpicking HPL's bigotry. You can find out more about the game here.
Murph read an interesting article about running OSR games for kids, but the GM has eliminated player deaths. It is an interesting article and series over on the Dreaming Dragonslayer blog.
And speaking of OSR, Old School Essentials will be launching a kickstarter in August 2020 to finish up the AD&D clone by Necrotic Games. There is no official launch date as of yet but they have a landing page for sign-ups. They will be producing two variants of the rules, one a set of five slim and modular tomes, the other 2 massive books.
Recent Gaming
Murph and his players just finished up the intro scenario for Symbaroum. And they just played Eclipse Phase using the Elemental rulesset from Gildor Games and GMed by friend of the show, writer, editor of Hypergraphia, Skype of Cthulhu alum, and all around amazing guy. KeeperGladius aka Matt Puccio.
Dave took a week off normal games to play games with his annual group. They played their fourth year of DCC. And, Dave's starting a fantasy campaign with folks from his daughter's school, so all his bluster two episodes ago is being called out! Listen to the episode to hear Dave talk about Dungeon World briefly.
Card Catalog
Ipwned, on the Discord channel, shared a link to 1600 occult books that have been digitized. The list is pretty awesome and has some amazing books and we can thank Dan Brown, the author of the Da'vinci Code, and the Rittman Library in Amsterdam. This online gallery is huge and as of recording has over 2100 digitized texts that are free to view. It is an amazing resource and it just bursting with new magical tomes that you can use in your games.
MUP Patreon
If you haven't heard yet, we have redesigned our Patreon and so far the feedback has been all positive! We are greatly appreciative of you, our listeners, and would ask that if you can please back us! Our next goal in funding will pay our worthy editors for their time! Also all backers, regardless of level will have access to the outtakes reel that we are going to put out on a special RSS feed from Patreon! To back us you can click the button on the sidebar of our website, mu-podcast.com or head over to Patreon directly at www.patreon.com/mup!
MUP Discord
MU Discord server invite link: https://discord.gg/vNjEv9D
Contact MUP Keepers
You can email the podcast, and give us a hearty "Go Pods!", at mup.feedback@gmail.com.
Main Topic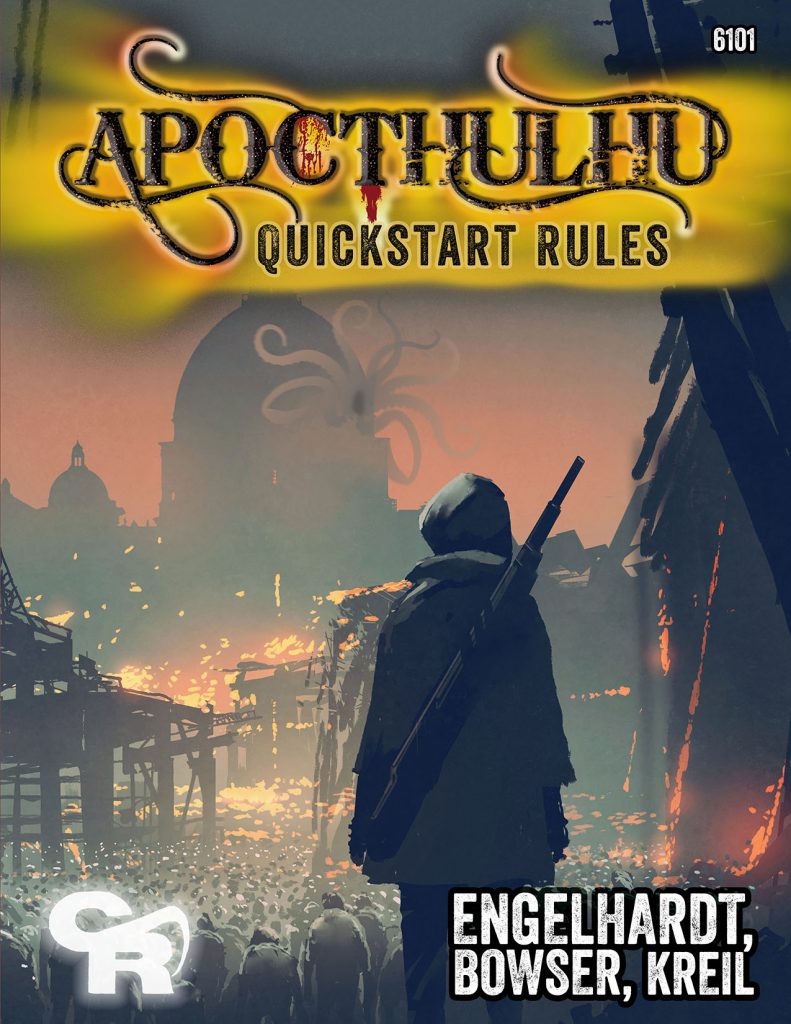 We speak with Dean Englehardt and Jo Kreil about the new RPG Apocthulhu! You can follow Dean at his website Cthulhu Reborn, or on Twitter @cthulhu_reborn. You can follow Jo on Twitter at @KreilJo.
You can purchase the Apocthulhu Quickstart Rules in PDF from DriveThruRPG. While you are there you might as well check out the plethora of other products from Dean that we talked about as well, Convicts & Cthulhu, and Dateline Lovecraft.
Since recording this episode, the day after actually. Dean was able to move forward on the print run of Apocthulhu as well! More details can be found on his blog.