This episode, Keepers Dave, Jon, and Murph welcomes President of  Golden Goblin Press, Oscar Rios. Golden Goblin Press is about to launch a  new Kickstarter for a pair of short story collections, so we thought  it'd be a great time to read some short stories and discuss them. Enjoy!
Campus Crier
The Campus Crier is the Miskatonic University's student newspaper. This edition was collected on July 16th, 2020.
One Book Shelf, the company behind DriveThruRPG has informed Chaosium that starting immediately they are suspending Print On Demand options for items within the Miskatonic Repository. Going forward only titles with Electrum status (250 sales or more) will have the POD status. 
This is the same as a rule that DM's Guild has had in place for some  time now. The reasoning for the change is due to OBS just being swamped.
Good Friends of Jackson Elias Con  has ended and it was a lot of fun! Jon ran some games, that I'm sure he  will talk about endlessly in just a few minutes. Congrats to  the Good  Friends for putting together a wonderful online convention.
MUP Patreon
If you haven't heard yet, we have redesigned our Patreon and so far   the feedback has been all positive! We are greatly appreciative of you,   our listeners, and would ask that if you can please back us! Our next   goal in funding will pay our worthy editors for their time! Also all   backers, regardless of level will have access to the outtakes reel that   we are going to put out on a special RSS feed from Patreon! To back us   you can click the button on the sidebar of our website, mu-podcast.com or head over to Patreon directly at www.patreon.com/mup!
MUP Discord
MU Discord server invite link: https://discord.gg/vNjEv9D
Contact MUP Keepers
You can email the podcast, and give us a hearty "Go Pods!", at mup.feedback@gmail.com.
Main Topic
Oscar Rios, President of Golden Goblin Press, returns to talk about short stories. GGP is about to launch "Growing Up / Overnight: Two Horror Short Story Collections," a Kickstarter for a pair of cosmic horror short story anthologies. The first is Children of Lovecraft Country: An Eldritch Legacy, and the other is Between Twilight & Dawn. 
<figure>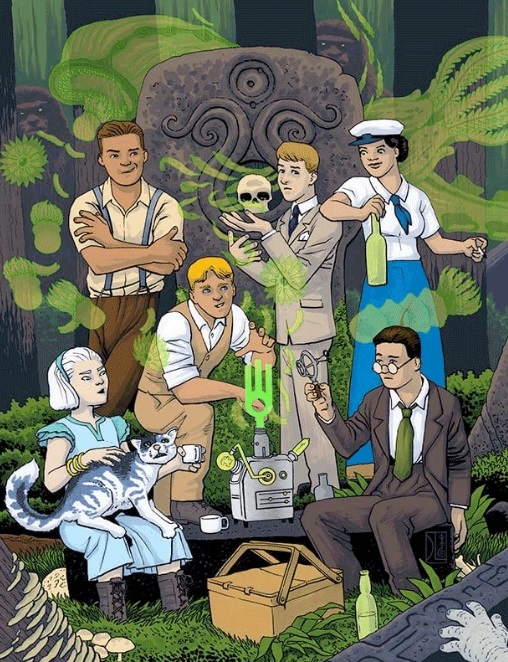 </figure>
For the episode discussion, the guest and hosts each read one or more  stories. Please listen to the episode for the full discussion. The  stories we read are: 
Oscar Rios read: The Shortest Way, by David Drake, published in Vettius and his Friends. 
Keeper Jon read: The Future Eats Everything, by Don Webb, published in The Mammoth Book of Cthulhu, and The Horror Out of Time, by Randall Garrett, published in Acolytes of Cthulhu. 
Keeper Dave read: The Inhabitant of the Lake, by Ramsey Campbell, and The Secret Painting of Thomas Cartwright, by W. H. Pugmire, both published in The Children of Gla'aki. 
Keeper Murph read: Horns, by Joe Hill.