Podcast: Play in new window | Download
Subscribe: Android | Google Podcasts | RSS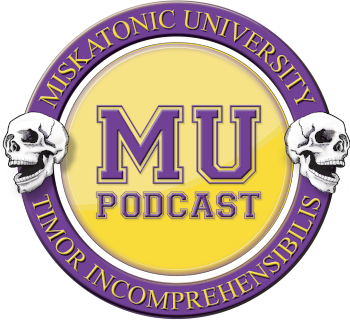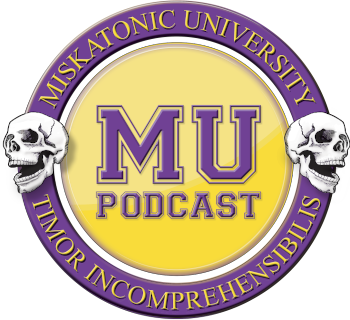 In the final episode of 2019, Keepers Jon, Dan, & Murph bid a fond and scathing farewell to Keeper Chad.
Campus Crier
The Campus Crier is Miskatonic U's student paper. This is where we keep all the Mythos-related news and feedback to the podcast. This episode was recorded on December 16, 2019.
Chaosium has released the fourth and last installment of their organised play campaign, Flotsam & Jetsam, for Call of Cthulhu. "On the Banks of the Ohio" has already been released to Cult of Chaos members on the BRP Central forums.
Hunters Entertainment and Paradox Interactive has teamed up for Werewolf: The Apocalypse 5th Edition. They are hoping for a 2021 release and the project will be marketed and distributed by Renegade Games.
Alien the Roleplaying Game is officially out! It looks amazing. It's definitely worth checking out.
The Fall semester at Taylor University came to a close today, and Refractions of Glasston is now available to download for free at the Miskatonic Repository, Chaosium's Call of Cthulhu community content resource at DriveThruRPG. Refractions of Glasston is the result of a creative collaboration between the Professional Writing department at Taylor University, Upland IN and Chaosium Inc. The creators are all students at Taylor University. Though many of the team are members of the professional writing major, this is their first foray into the world of RPG writing. With help and advice provided by Chaosium's Mike Mason and Lynne Hardy, these writers, editors, and RPG enthusiasts set out to create a unique adventure for Call of Cthulhu fans to enjoy.
Dead Light is back, with two "unsettling" encounters on the road…DEAD LIGHT AND OTHER DARK TURNS contains two scenarios dealing with the theme of roadside adventure, along with six story seeds for the Keeper to expand and develop.
In the classic 'Dead Light' scenario, now revised, a chance encounter with a distressed young woman leads the investigators into the hideous aftermath of a crime gone terribly wrong. While in the brand-new 'Saturnine Chalice' scenario, seeking help from a nearby homeowner after their vehicle runs out of gas traps the investigators in a house where nothing is quite what it seems. Available in PDF now from Chaosium.com, with print to follow (buy the PDF direct and get the full price of the PDF off the print version when it is released)
From Arc Dream Publishing: Delta Green: The Labyrinth is now available in PDF. If you're a Kickstarter backer, log in to your account and download your copy. If you missed the Kickstarter you can either purchase the PDF from DriveThruRPG or pre-order the hardback and receive the PDF now for free. They anticipate hardbacks to begin shipping to customers some time in January. There's a link in the show notes to a whole newsletter with other news from Arc Dream.
Nine episodes of the The Whisperer in Darkness program on BBC are available, with Episode nine having dropped on Dec. 16.
And lastly, the Yellow King RPG which was kickstarted by Pelgrane Press is finally in the hands of backers. This new version of the Gumshoe system is called the QuickShock Gumshoe, and it looks amazing! Look for this game too.
(Chad) MU Discord server invite link
Patreon Plug
If you haven't heard yet, we have redesigned our Patreon and so far the feedback has been all positive! We are greatly appreciative of you, our listeners, and would ask that if you can please back us! Our next goal in funding will pay our worthy editors for their time! Also all backers, regardless of level will have access to the outtakes reel that we are going to put out on a special RSS feed from Patreon! To back us you can click the button on the sidebar of our website, mu-podcast.com or head over to Patreon directly at www.patreon.com/mup!

End of an era as we say good-bye to Keeper Chad!
Keepers Dan, Murph, and Jon say good-bye to their friend Keeper Chad as he moves on to dedicate more time to his writing. In addition, the Keepers field questions sent in by the listeners. A couple of fans even sent in audio clips to say farewell.