Podcast: Play in new window | Download
Subscribe: Google Podcasts | RSS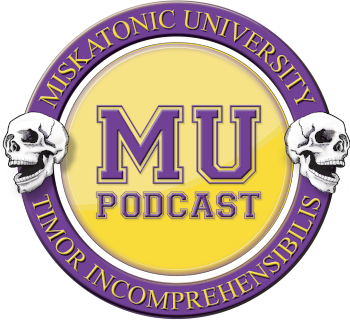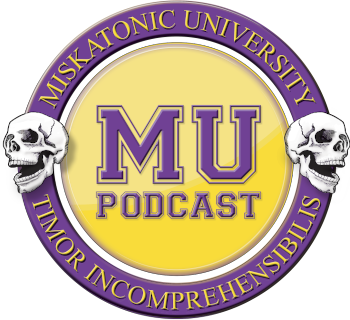 Campus Crier
The Campus Crier is Miskatonic U's student paper. This is where we keep all the Mythos-related news and feedback to the podcast.
Golden Goblin Press has posted a few updates. For the recently completed Lovecraft Country Holiday Collection, Oscar just wrapped up the rewrite for Christmas in Kingsport (…so topical, right?). It's currently clocking in at more than 28,000 words, but that'll be streamlined in edits. He also posted a picture of the open manuscript for Britannia and Beyond, which is part of the Invictus line. He's reading it now. And all maps and interior art are in house for An Inner Darkness.
Noah Lloyd of the Reckoning of the Dead website has released a scenario for the Miskatonic Repository on DriveThru RPG. It's called A Lark in a Cage, it's for the Gaslight era set in London in 1895. "A family discovers that their child has been replaced by . . . something else. When the investigators take the case, they find themselves on a tour across the soot-choked streets of East London, revealing new threats to the city, wicked enemies, and even wickeder allies as they race against the clock to save the child." I got to playtest it, and it's a solid atmospheric and haunting scenario that'll make you think.
The 5th issue of Blasphemous Tomes from our pals at The Good Friends of Jackson Elias is hitting the press. This is the print-only fanzine that we create for Patreon backers of The Good Friends podcast. It contains articles about RPGs, horror films and weird fiction, not to mention plenty of sanity-blasting artwork and original content for the Call of Cthulhu roleplaying game. Everyone backing them via Patreon by the end of December 2019 will receive at least one copy of the Tome.
Some news from Chaosium this week! Chaosium will be developing a brand new RPG based on the Rivers of London series of urban fantasy novels by Ben Aaronovitch. The game is set to bring in the unique feel of the novels and its special department of the MET along with gods of the rivers, strange mythical beings and ghosts all set in a modern day London. Lynne Hardy will be the project lead for the development which is set to use a modified version of the BRP system to account for the series' use of Newtonian Magic and odd beasties.
Fresh from the Unexpected News Desk, Chaosium confirms they are creating a Basic Roleplaying ruleset to be released as an OGL SRD. There are a few catches, however, mainly that games created with the SRD can't use the Cthulhu Mythos or be used to re-create Pendragon or, presumably, any of their other properties. We have a link to the original thread on the BRP forums where Jeff Richard confirms the information in the show notes.
MU Discord server invite link
And thank you beaucoup to SEAN for editing this episode.
Patreon Plug
If you haven't heard yet, we have redesigned our Patreon and so far the feedback has been all positive! We are greatly appreciative of you, our listeners, and would ask that if you can please back us! Our next goal in funding will pay our worthy editors for their time! Also all backers, regardless of level will have access to the outtakes reel that we are going to put out on a special RSS feed from Patreon! To back us you can click the button on the sidebar of our website, mu-podcast.com or head over to Patreon directly at www.patreon.com/mup!
Graham's Card Catalog
Graham spotted an obscure piece of California history in the form of a 1950s article on a short lived monorail that served an Epsom Salts mine between 1924 & 1926. The article is preserved on the way back machine of Archive.org.
Just because it makes sense for today's show topic, let's highlight a blog post from Bret Kramer from 2015 that includes a downloadable list of all the Lovecraft Country scenarios to that point. He also talks about his favorite scenarios for each of the main settings.
Main Topic
Kingsport — The City in the Mists
Kingsport is a fictional coastal town that's featured in three of Lovecraft's stories. The Terrible Old Man, The Festival and The Strange High House in the Mist. It's mentioned in other stories. And other writers have used it as a setting. In Call of Cthulhu, Kevin Ross extrapolated a whole fleshed out setting and history for the town that is his own imagining. It's important to keep in mind the distinction between Kevin Ross's Kingsport, and a much more vague setting that's open to interpretation and Ross's details are not set in stone.

It's very well established from Lovecraft's letters that he was inspired by Marblehead, Massachusetts, though he wrote the first Kingsport story before he even visited Marblehead. When he did visit the city he described a kind of ecstatic orgasm when he saw the town in 1922. "that instant — about 4:05 to 4:10 pm., Dec. 17, 1922 — [was] the most powerful single emotional climax during my nearly forty years of existence."

"Efficiunt Daemones, ut quae non sunt, sic tamen quasi sint, conspicienda hominibus exhibeant "
Lactantius
"They make it, the devils, that the things which are not, so far, however as they perceive them to perform."
"Devils work so that things which are not appear to people as if they were real."

Ross's Kingsport starts as a colonial farming and fishing village, and involves generations of Kingsport Cult shenanigans, culminating in 1722 with a Green Flame invocation from the Congregational Church and an armed mob running them out of town.
What do you like most about the setting?
What entices you to play or run games there?
What are the big themes or characteristics you see in Kingsport that are different than Arkham or other CoC settings?
What are things you would like to see in Kingsport that would improve or expand on the setting to make it your own?
What Kingsport scenarios do you like?
Jon's scenario — Malice Everlasting, by Oscar Rios (New Tales of the Miskatonic Valley — Miskatonic River Press — slated to be reprinted by Stygian Fox)

Chad's: Shades of Tomorrow Lost from More Adventures in Arkham Country by Scott David Aniolowski.
Discord server invite link https://discord.gg/up4hRX