Podcast: Play in new window | Download
Subscribe: Google Podcasts | RSS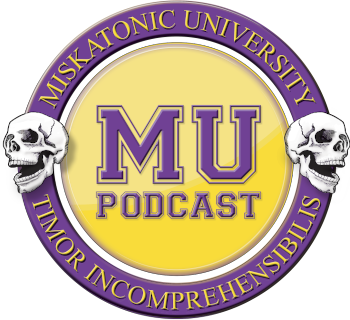 This episode, all four hosts are back for a rare quorum, and we're taking sci-fi tv shows and Mythosifying them. This episode was recorded on August 15, 2019.
This is our brief-brief-brief pre-NecronomiCon episode, before we get together in Providence.
A big thank you goes to Golden Goblin Press for sponsoring this episode!
Campus Crier
First thing – a huge thank you to Murph for a Herculean and almost Sisyphean effort to revamp, redesign, spackle and patch the MU forums as well as the website. This was a huge rabbit warren of tasks that started with a barrage of spam posts on the forum, too many details to list here, but we're talking about full days of work to get us up and running again as well as updated, secure and pretty. Thank you, Murph.
Chaosium has announced the release of Flotsam and Jetsam, a new four part series of scenarios for the CoC Organized Play Campaign. The scenarios will be released monthly to Keepers of the Cult of Chaos. Friends of the show Brian Courtemanche and Anthony Lee-Dudley are the authors of the first and fourth scenarios respectively, Congratulations to them both.
WEIRD TALES IS BACK! The magazine that never dies has returned — with Bram Stoker Award-winner Jonathan Maberry leading the way as Editorial Director. You can find more info at their website.
Chaosium's Masks of Nyarlathotep has been nominated in the 2019 Dragon Awards in the Best Science Fiction or Fantasy Miniatures / Collectible Card / Role-Playing Game category. Check out the link in the show notes for voting details.
By the way, the video for the ENnies award ceremony is back up now.
And thank you so much to Edwin for editing this episode.
Sponsor
Thanks to Golden Goblin Press for their sponsorship this episode. We appreciate it!
Listening Room
This time, Oscarious Tabularis brings us the fourth installment of this season's Glimpses Into the Empire. This one is called "A Haunting in Athens."
Topic

"A "riff" of our own on Space Horror settings. We take sci fi movies or books or TV and turn them into space horror. We gave a time limit of 4 minutes. Chad failed to meet that utterly.
Chad – Lost in Space
Jon – TOS Star Trek
Murf – StarGate-SGU
Dan – Space: 1999