Podcast: Play in new window | Download
Subscribe: Google Podcasts | RSS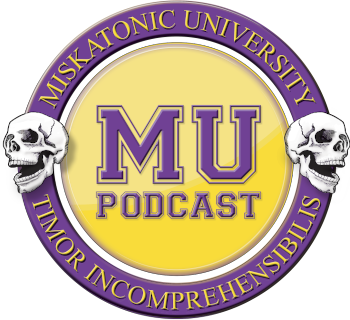 This episode, Keepers Murph, Dave, and Bridgett interview friend of the show, Helen Gould! Helen agreed to volunteer as tribute and test out a new (currently untitled) MUP segment where we bring on old friends and discuss/riff about random stuff!
Campus Crier
The Campus Crier is where we keep all the mythos related news and info for the podcast, this episode was recorded on February 27th, 2022.
R. Talsorian Games & Darker Hue Studios Team Up
R. Talsorian Games has signed an agreement with Darker Hue Studios to distribute Haunted West, a tabletop roleplaying game shining the light of truth on the old west.
Join the League of Free Agents
Free League has kicked off its organized play program, League of Free Agents. Dave has joined
Roll20 has doubled in size in two years, and Call of Cthulhu has grown with it – Chaosium Inc.
Roll20, and Chaosium's associated products, have doubled in the past year. Dave plans to put Sun Spots on Roll20 in the next few months.
The Discord Plug
We have our MUP Discord and we are all there! We invite all of our listeners to come and enjoy the community of horror gaming and cute pet pics.
I'd like to shout out James from 1D4 con and their newest adoption, Rain! Welcome home, Rain! Get ready for the best days of your life.
MU Discord server invite link: https://discord.gg/vNjEv9D
And thank you beaucoup to Edwin for editing this episode.
Patreon Plug
We have a Patreon! To back us you can click the button on the sidebar of our website, mu-podcast.com or head over to Patreon directly at www.patreon.com/mup!
Shoutout to Targrad
And you can also help out the show by buying some merch from our Teepublic store!
Thanks to our backers so much for supporting the show!!
Main Topic — How to be a Good Player