Podcast: Play in new window | Download
Subscribe: Google Podcasts | RSS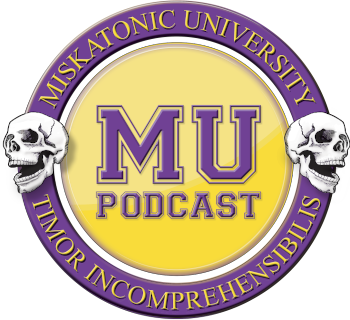 This episode, Keepers Murph and Bridgett sit down with special guest, Jacob Wood, who is the owner of Accessible Games! This past year he ran a successful KickStarter for Survival of the Able and he's also an industry Accessibility Consultant. Welcome Jacob!
Campus Crier
The Campus Crier is where we keep all the mythos related news and info for the podcast, this episode was recorded on January 27th, 2022.
Free League announced Heart of Darkness for the Alien RPG. This is billed as a stand-alone adventure, but also serves as a conclusion to the Draconis Strain Saga begun in the cinematic scenario Chariot of the Gods and continued in Destroyer of Worlds, all written by our friend and previous guest, Andrew Gaska.
Player signups for A Weekend with Good Friend Gaming Convention begins on February 4th and will run through February 10th. Reminder, this is an online convention sponsored by the Good Friends of Jackson Elias podcast! It'll be running from February 18th-20th, so be sure and sign up for as many games as you can!
The Discord Plug
We have our MUP Discord and we are all there! We invite all of our listeners to come and enjoy the community of horror gaming and cute pet pics.
I'd love to give a shoutout to Targrad's absolutely adorable fur children, Bear and Robyn. He recently read them Lynne Hardy's Children of Fear and their facial expressions are… incredible! Targard, thanks for always swinging through with the pup assist and constant pup love!
MU Discord server invite link: https://discord.gg/vNjEv9D
And thank you beaucoup to Sean for editing this episode.
Patreon Plug
We have a Patreon! To back us you can click the button on the sidebar of our website, mu-podcast.com or head over to Patreon directly at www.patreon.com/mup!
WOW! BACKER LOVVVVVEEEE!!! Thank you new backers!!!
Cornysams
TammyTheTiger
Miranda Adams
Evan Perlman
JZahler
We really appreciate you guys for Backing. We are going through the results of the polling that we did for last show and will be making some changes I'm sure as a result of that.
And you can also help out the show by buying some merch from our Teepublic store!
Thanks to our backers so much for supporting the show!!
Main Topic — Jacob Wood
Robot Claw Entertainment, publisher of Tears of a Machine SC:
Russell Collins is @RobotClaw on Twitter
Limitless Heroics Kickstarter:
Limitless Heroics: Better worlds via Dice & Disabilities 5e by Dale Critchley — Kickstarter
Only has 4 days to go, so it won't still be running when the episode goes live. Might be good to recap though.
Accessible Gaming Quarterly, Year 3 Kickstarter:
Runs from 2/2/22 through 2/16/22
Vision Layers website:
Broken Ruler Games, the company run by my colleague Todd Crapper
Todd is the mastermind behind Vision Layers and my go-to for layout and graphic design.
Accessibility in Gaming Resource Guide
By Jennifer Kretchmer
Accessibility in Gaming Resources – Google Docs
Accessible RPG, a Wiki designed to help people understand real-world symptoms and how they can impact a gaming experience:
Knights of the Braille, a website and Discord community of mostly blind gamers. They're open to gamers from every background and also helpedhost the Everyone-Games event:
Everyone-Games, an event we ran in October to raise awareness and charity money for disabled gamers. We hope to run it again next year: