Podcast: Play in new window | Download
Subscribe: Google Podcasts | RSS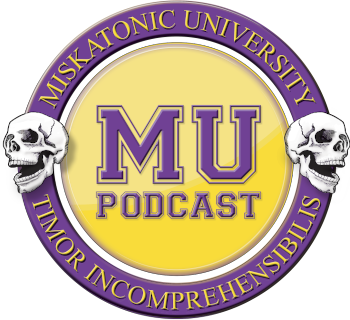 This episode, Keepers Murph & Bridgett interview writer, editor, and all around awesome peoples Brett Kramer!
Due to the fact that we're recording a lot later than usual (and Bridgett is going through severe nicotine withdrawal) we're going to skip the Campus Crier. However, we would be remiss if we didn't thank Ogdru Hem from the Discord for allowing us to use his music, Miskatonic Library, for the new intro bumper. You can find his work on YouTube, DTRPG, and BandCamp.
Campus Crier
Stay tuned next episode for more Campus Crier!
The Discord Plug
We have our MUP Discord and we are all there! We invite all of our listeners to come and enjoy the community of horror gaming and cute pet pics.
Today, I'd like to shout out listener and fan, Anthony Lee-Dudley and welcome home their newest black cat adoption, Ms. Fay. Anthony says, "we thought, we don't have enough black cats… so they decided to adopt Ms Fay, too." Welcome home, Ms Fay!
We also want to shout out fan and listener of the show, bdurfy. He's currently recovering from a serious condition and we just want to let you know that we love you, brother, we appreciate your support, and we're all rooting for you.
MU Discord server invite link: https://discord.gg/vNjEv9D
Patreon Plug
We have a Patreon! To back us you can click the button on the sidebar of our website, mu-podcast.com or head over to Patreon directly at www.patreon.com/mup!
Jazmin Ospa
Hey– listen. Real talk. We appreciate our Patreon backers more than we can say… but we also recognize that we could do better about celebrating, supporting, and rewarding our backers. With that spirit in mind, the hosts are currently revamping our patreon tiers, backer rewards, and more! Current backers– check your inbox for a survey that is coming back soon. We're rebuilding based on your preferences, because let's face it, we're only here because of you. Please, complete that survey and shoot it back over to us.
We're still offering Patreon Backers a sneak peek into future episode guests! Back us for an opportunity to ask your favorite creators in the TTRPG circuit your questions! ALSO, we're keep offering where Patreon backers will have an exclusive opportunity to play in games run by one of us co-hosts!
"It is our pleasure to announce that The Miskatonic University Podcast and The Old Ways Podcast are joining forces to bring a special series of Backer only games for their supporters in 2022!
In the coming months, a series of new stories will be told – all with the opportunity for both communities to engage and even join these recordings. We're excited for this new partnership and for our supporters to join us in this new monthly series!
Beginning in February, Backers will hear a new actual play episode from one of many settings chosen by the two shows. These might feature new scenarios, homebrew content, and an array of guest cameos. We can't wait for you to hear all the madness we have planned."
And last, but certainly not least, Dave has approved Pateron Backers to gain access to the Bookhounds of San Francisco Game! Stay up to date on game scheduling in the Patreon Only Discord server. Drop by, laugh, cry, and join in on a thread of absolutely top shelf memes and gifs. "Look at the flowers, Owen. Just look at the flowers."
And you can also help out the show by buying some merch from our Teepublic store!
Thanks to our backers so much for supporting the show!!
Main Topic — Bret Kramer