Podcast: Play in new window | Download
Subscribe: Google Podcasts | RSS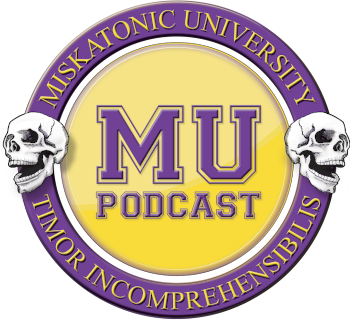 This episode Keepers Bridgett, Dave & Murph speak with Chris McDowall the author of Into the Odd & Electric Bastionland.
Campus Crier
The Campus Crier is where we keep all the mythos related news and info for the podcast, this episode was recorded on September 23, 2021.
The Ennies just wrapped up their awards for 2021, and a huge congratulations to all of the nominees winners. We'd like to send a special congratulations to Andrew Gaska and everyone at FLP for three ENnie Awards for their Alien: The RPG campaign, Destroyer of Worlds. Horror games really made a statement this year with awards and recognition going to Mork Borg, Vaesen, and even the Miskatonic Repository. Congratulations, Allan Carrey, for your silver on Hand of Glory
The Council of Shoggoths is proud to announce that all events for Friday and Sunday have sold out for Miskatonic Repository Con! The participation and support has been incredible, guys, and we really appreciate it. Check out the show notes for the link to sign up for Saturday events, join in on a panel, or just come hang out with some Call of Cthulhu creators! Reminder, the convention is going to be held, online, October 15-17th.
Free League just announced their plans to publish the Blade Runner RPG and my wallet just imploded. Enough with the amazing IP, art, design, game mechanics and just all around fantastic game experiences!
In celebration of their 40th Anniversary, Chaosium recently released their Call of Cthulhu 40th Anniversary Keeper Rulebook. This limited edition release features a new black and red leatherette cover and dust jacket design. Additional material includes personal accounts by some of the early creators and contributors to the game and the re-inclusion of the classic scenario 'The Haunting." Advance copies sold out at GenCon and it looks like they'll be arriving at Origins Game Fair as well! The official release date is October 2021.
Bridgett is stoked to be joining the main cast of Ain't Slayed Nobody's podcast for Y'all of Cthulhu Season Two. This is a custom Call of Cthulhu 7e campaign in the Down Darker Trails setting. She's playing an acrobat named Noni. The show just wrapped Season One and Season Two will start in early 2022. Subscribe to Ain't Slayed Nobody on your favorite podcast app.
And finally, writer and publisher of Electric Bastionland, Chris McDowall, has teamed up with Free League to reprint and update the original rule set Into the Odd in a new Kickstarter that has already blown through most/all of its stretch goals since it launched earlier this week. Fortunately we have Mr McDowall with us tonight to talk about the kickstarter. Chris?
We have our MUP Discord and we are all there! We invite all of our listeners to come and enjoy the community of horror gaming and cute pet pics.
Special shout out to fan of the show, Rina, and their cat Garak, who naps in positions that still make my lower back ache. Good luck with the move, Rina and Garak!
MU Discord server invite link: https://discord.gg/vNjEv9D
And thank you beaucoup to Max for editing this episode.
We have a Patreon! To back us you can click the button on the sidebar of our website, mu-podcast.com or head over to Patreon directly at www.patreon.com/mup!
Just a reminder, we're offering Patreon Backers a sneak peek into future episode guests! Back us for an opportunity to ask your favorite creators in the TTRPG circuit your questions! ALSO, we just kicked off a new offering in September where Pateron backers will have an exclusive opportunity to play in games run by one of us co-hosts!
And you can also help out the show by buying some merch from our Teepublic store! Thanks to our backers so much for supporting the show!!
Main Topic
Chris McDowall
Into The Odd Remastered Kicstarter
Pateron Questions:
From Diesel: what are your thoughts on the evolution of the OSR, from the retroclones to the games we see being produced today. What was it that pulled him into that scene, why does he think it evolved like that, and where does he think it's going next?
iPwnedMSCS — In your contribution to Knock! Issue 2, how one would use the horror cheap trick "cut off mid-sentence". Using the example from the article of "The wardrobe is covered in cobwebs. You slowly crack it open and feel the air get cold around you. You smell rotten wood and see…" do you eventually finish the sentence after letting it hang for a couple beats or do you do something else with it?
Also – what's next for you after this kickstarter?
Where can people get in touch with you?