Podcast: Play in new window | Download
Subscribe: Google Podcasts | RSS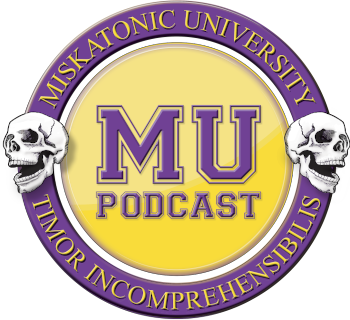 This episode, Keepers Murph, Dave, & Bridgett discuss the definition of horror, what type of horror appeals to us… and then we kinda started rambling about our most influential or memorable horror films and novels. Get your pens ready!
Campus Crier
The Campus Crier is where we keep all the mythos related news and info for the podcast, this episode was recorded on September 13, 2021.
The Miskatonic Repository Con is shaping up beautifully! At the time of recording, there are over 37 events listed and 3 panels with some of the heaviest hitting and insightful professionals in the industry to include Mike Mason, Lynne Hardy, Oscar Rios, Sean Branney, Helen Gould, Michael Fryda, all of your friendly neighborhood Chaosium Community Ambassadors, and more! You can check out the facebook page or we'll include the Table Top Events scheduler in the show notes! GM Submissions will have ended by the time of release, but Player Sign Ups start on September 17th! 
Free League Publishing released award-winning RPGs Vaesen – Nordic Horror Roleplaying and Symbaroum on Foundry VTT. All the released game modules on Foundry are fully integrated with the VTT platform with online maps and diagrams, player handouts ready to share, and more.
The Discord Plug
We have our MUP Discord and we are all there! We invite all of our listeners to come and enjoy the community of horror gaming and cute pet pics.
A special shout out to Porgy, the gorgeous border collie of one of our new Discord followers, OberonViking.
MU Discord server invite link: https://discord.gg/vNjEv9D
And thank you beaucoup to Murph for editing this episode.
Patreon Plug
We have a Patreon! To back us you can click the button on the sidebar of our website, mu-podcast.com or head over to Patreon directly at www.patreon.com/mup!
One new backer!
Just a reminder, we're offering Patreon Backers a sneak peek into future episode guests! Back us for an opportunity to ask your favorite creators in the TTRPG circuit your questions!
We also have a new offering for our Patreon backers, starting tomorrow! Come game with the hosts!
And you can also help out the show by buying some merch from our Teepublic store!
Thanks to our backers so much for supporting the show!!
Main Topic — What Does Horror Mean To You?