Podcast: Play in new window | Download
Subscribe: Google Podcasts | RSS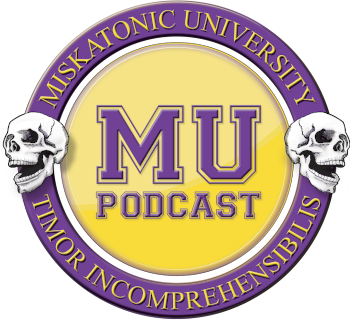 This episode, Keepers Dave & Bridgett interview award nominated fantasy and horror author, freelance RPG Writer, and all around rockstar, Alison Cybe!
Campus Crier
The Campus Crier is where we keep all the mythos related news and info for the podcast, this episode was recorded on August 29, 2021.
Keeper Dave is very proud to announce the arrival of Apocthulhu Part 2, Terrible New Worlds. If you remember way back in episode 205 (which was August 2020 in forever-ago times), we interviewed Dean Englehart and Jo Kriel about their massive Apcothulhu project. Well, now the second book has arrived, which includes a scenario by yours truly. Do we want to talk about the editing process and how good editors (like Dean and Jo) can turn a pretty good idea into a great scenario?
In what feels like a Herbert West style reanimation, Chaosium has acquired the entire Cubicle 7 Call of Cthulhu line, including Cthulhu Britannica and World War Cthulhu. This even includes the rarer Cold War materials, that our own Keeper Chad contributed to. The line is highly regarded and is sure to fill out Chaosium's already growing line of materials – how quickly they'll get it to shelves is yet to be determined.
Hasbro has unveiled their own rpg system for their newly licensed materials, which include GI Joe, Transformers, and Power Rangers. This rpg line is not part of WotC, and uses its own new Essence20 system as mechanics. As an aging Gen Xer who watched a LOT of GI Joe and Transformers, (and who doesn't like using 5e for non-fantasy games) I have to say that I am mildly intrigued.
Kickstarter news: The Delta Green reboot of their original materials is well funded and sitting around $350k as of time of recording. Much like Chaosium reprinting their older materials that fetch extreme prices on the secondary market, Arc Dream is republishing their original book and other 90s materials, updated to their new Delta Green system. The Kickstarter ends on Sept 10th, I believe, and so there is still plenty of time to get in on the action.
Friend of the show, fellow Call of Cthulhu and all around great guy Bill Adcock has… a sister, who also is an rpg writer. Nice family! Anyway, she is running a kickstarter based on labor rights in the coal industry called The Price of Coal.
Finally, the most successful RPG kickstarter of all time will be done by the time this episode airs, but whew! The Avatar RPG has crossed $7.5m. Here's to our industry's breakthrough.
The Discord Plug
We have our MUP Discord and we are all there! We invite all of our listeners to come and enjoy the community of horror gaming and cute pet pics.
MU Discord server invite link: https://discord.gg/vNjEv9D
And thank you beaucoup to Murph for editing this episode.
-0- Updated August 29 by Dave -0-
Patreon Plug
We have a Patreon! To back us you can click the button on the sidebar of our website, mu-podcast.com or head over to Patreon directly at www.patreon.com/mup!
One new backer!
Andy Miles
Just a reminder, we're offering Patreon Backers a sneak peek into future episode guests! Back us for an opportunity to ask your favorite creators in the TTRPG circuit your questions!
And you can also help out the show by buying some merch from our Teepublic store!
Thanks to our backers so much for supporting the show!!