Podcast: Play in new window | Download
Subscribe: Google Podcasts | RSS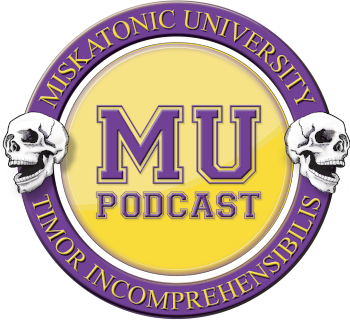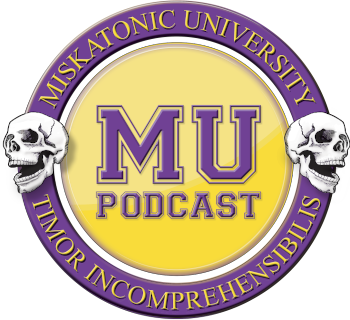 In this episode, Keepers Dave and Jon welcome Liam Stevens, game designer and podcaster. Liam co-hosts the Mud & Blood Podcast. Enjoy!
Campus Crier
The Campus Crier is the Miskatonic University's student newspaper. This edition was collected on August 28th, 2020.
AfterShock Comics announced Miskatonic, a new Lovecraftian horror series by writer Mark Sable and artist Giorgio Pontrelli. The series promises "a mix of historical crime fiction and Lovecraftian-horror that dives deep into the American nightmare."
The full APOCTHULHU core game has been released! Only the PDF is available on DriveThruRPG, but if your intent is to obtain both the PDF and a printed edition of the game, then have no fear. Each purchase of the PDF comes with a discount code that will enable you to buy the print edition at a reduced price. The discount will be equal to the full PDF purchase price. The print edition is expected later this year.
Composer Graham Plowman has posted an hour of original orchestral music on YouTube that you can play as background music for your Call of Cthulhu or other horror tabletop games. The composition is called From the Vault of the Miskatonic Valley. Plowman has other cool orchestral mood music on YouTube too, including The Great Old Ones and Other Beings.
Matic Games and Red Scar Publishing have released their Hellboy RPG Quickstart rules for free on DriveThruRPG. The Kickstarter for the fully Hellboy RPG rules is live now. The game was funded in one hour, and is well on its way to knocking down several stretch goals. The game is designed to use D&D 5E rules.
Actress and YouTube personality, Becca Scott, is the Keeper of Arcane Lore for The Ties that Bind, a YouTube actual play sponsored by Chaosium. This amazing all-woman game features Gina DeVivo, Amy Dallen, Whitney Moore, and Stef Woodburn. The game series, initially streaming on Twitch, is archived on YouTube.
Jon recently contributed to Shoggoth.net. Please go check out my short essay on shoggoths. It includes a brief description of the types of shoggoths in the Keeper Rulebook and Malleus Monstrorum, scenario hooks, and a brand new type of shoggoth that I call a Tindalosian Shoggoth.
Dave will also be writing something on Shoggoths for Shoggoth.net! And there's a new trailer on YouTube for a movie called Intersect that looks cool. It's set at Miskatonic University! It doesn't look like a big-budget movie, so the quality is definitely in question, but it could be fun.
Recent Gaming
Dave's played both Call of Cthulhu and Dungeon World, but otherwise has taken his first real break in months. It's weird.
Jon has begun an ALIEN game on Mondays; "It's been amazing and fun." And he's preparing notes for the Spawn of Azathoth campaign that he's going to be running for the Into The Darkness YouTube channel. He's also in the early stages of planning a game with Seth Skorkowski; "I'm going to run my Shadows Over Providence for him and two other players. So I'm looking forward to that too."
MUP Patreon
If you haven't heard yet, we have redesigned our Patreon and so far the feedback has been all positive! We are greatly appreciative of you, our listeners, and would ask that if you can please back us! Our next goal in funding will pay our worthy editors for their time! Also all backers, regardless of level will have access to the outtakes reel that we are going to put out on a special RSS feed from Patreon! To back us you can click the button on the sidebar of our website, mu-podcast.com or head over to Patreon directly at www.patreon.com/mup!
MUP Discord
MU Discord server invite link: https://discord.gg/vNjEv9D
Contact MUP Keepers
You can email the podcast, and give us a hearty "Go Pods!", at mup.feedback@gmail.com.
Main Topic
Download the episode and join us as we talk to Liam about game design and the Mud & Blood podcast. To explore more about Lian and the Mud & Blood podcast, use the following links: