Podcast: Play in new window | Download
Subscribe: Google Podcasts | RSS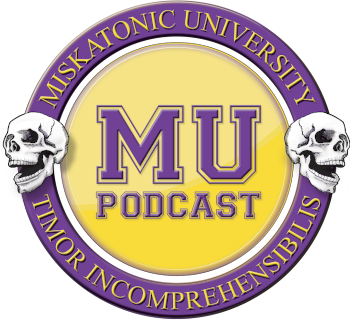 We're BAAAAAACCCKKKK!!!!
This Episode, Keepers Murph, Dave & Bridgett, along with previous hosts, frequent guests, backers and friends, celebrate the recording of MUP's 250th Episode! That's right guys! 10 Years and 250 Episodes! Congratulations, MUP, and congratulations to you, the listeners! We did it!!!!
Campus Crier
We nah'd the Campus Crier for this recording.
The Discord Plug
We have our MUP Discord and we are all there! We invite all of our listeners to come and enjoy the community of horror gaming and cute pet pics.
MU Discord server invite link: https://discord.gg/vNjEv9D
And thank you beaucoup to Murph for editing this episode.
Bridgett's Pet Pick Shout Out
When the cat thinks he's a better podcaster than you. Shout out to Cooper, cat of John H! Thanks for supporting the Pet Pics Channel and sharing this awesome kittuh with us!
Patreon Plug & Update
We have a Patreon! To back us you can click the button on the sidebar of our website, mu-podcast.com or head over to Patreon directly at www.patreon.com/mup!
Most importantly though – after some butt kicking by Bridgett, we are formally announcing our new Patreon tiers. Frankly, we have really just been living on the good graces of our supporters, who have been wonderful enough to just support us when there has been a distinct lack of difference between all the tiers. We are solving that today.
First up – there are no changes to the tier names or their cost. So if you are a backer, your tier will stay exactly the same. However, now each tier will come with specific benefits that we will now outline (and of course will be on Patreon by the time you hear this). For each of the tiers, you of course get everything from the previous tier.
Freshmen $1: We'll give you a shout-out and thank you on the show! You'll have access to our exclusive, Backer-Only Discord channels. We'll also notify you about scheduled guest appearances ahead of time so that you can send us your questions! Backers at this level also can sit in on Keeper Dave's Trail of Cthulhu campaign, Bookhounds of San Francisco. You also get access to contests!
Sophomore $2: You can now join pop-up events, last minute pick-up games, and other special events hosted by the co-hosts!
Junior $5: You are invited to exclusive watch parties and movie nights with one of the hosts! Grab your popcorn, kick back, and hang with the hosts for a movie night! These events will be hosted quarterly.
Senior $10: You have unlocked access to private content to include Host-GM'd games, Team Up recordings with The Old Ways Podcast, locked bonus episodes, and more! You'll also receive a unique annual postcard from your hosts! Host-GM'd games run monthly, will be pre-scheduled a year in advance, and offer you a tour of your favorite weird and horrific roleplaying games beside one of the hosts!
Graduates $15: You'll receive a PDF copy of limited-edition playable content from your hosts! That's right! Examples may include pamphlet adventures, system agnostic scenarios, etc. We plan to roll out 3 of these per year.
Professors $20: You, yes you, will be invited to join the hosts on air! Once a year, we'll invite Professor Level backers to join the show and choose your own topic! Come talk, laugh, cry, and make fun of Murph on air!
Speaking of amazing backers –
New Backer Shout Out – Thank you Ash DelVillan!
And you can also help out the show by buying some merch from our Teepublic store!
Thanks to our backers so much for supporting the show!!
Main Topic — 250 Episodes
MUP is nothing without our community, and in celebration of our anniversary, we reached out to a bunch of amazing people who we know and love in our community.
Ep 223 was Bridgett's first episode as guest – – 27 episodes for Bridgett!
Ep 109 was Dave's first episode as guest, Ep 190 as host – 60 episodes for Dave!