Podcast: Play in new window | Download
Subscribe: Google Podcasts | RSS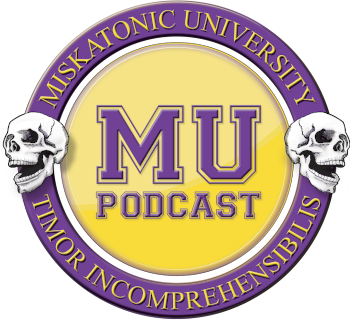 This episode, Keepers Dave and Bridgett welcome back friend to the show Oscar Rios to discuss Golden Goblin Press, Invictus, the definition of a hero, and The Legacy of Arrius Lurco.
Campus Crier
The Campus Crier is where we talk about recent Mythos-related events and happenings in the world. This episode was recorded on February 23, 2023.
Step further into the dark with the latest supplement for Call of Cthulhu! Nameless Horrors contains 6 scenarios featuring brand new elements of the Mythos that will keep even the most seasoned Investigator on their toes! Available worldwide March 8th.
Good news – Laird Barron is home from the hospital! He of course has a long road to recovery but being home is a good indication that he's heading in the right direction. For those who missed it, there is a Go Fund Me available to support his medical expenses that has raised $136,000 or so at the time of recording. Thank you to all listeners who supported Laird, and we wish him continued recovery.
Speaking of needing help, Lovecraft Arts & Sciences is holding its Lovecraft Arts & Sciences 2023 Winter Fundraiser. Similar to the situation a couple years ago, they find themselves coming up short on the funding needed to keep the business running. Turns out NecronomiCon, for starters, was much more expensive than usual – with prices increasing across the board and attendance overall down from its normal capacity. Necro, the store, and all the supporting infrastructure is already run mostly on volunteer labor, and so the shortfall from last year now puts longevity at risk. The fundraiser is nearing $12k at time of recording, and we all know how important Necronomicon is to the community at large. Please take a moment to donate – even $5 adds to the bucket.
Free League prepares to launch their kickstarter for The Walking Dead Universe RPG.
Free League released two new game licenses for community creators – a Free Tabletop License (FTL) for the Year Zero Engine and a third-party license for the upcoming Dragonbane fantasy RPG.
Finally, with the OGL controversy momentarily in our mirrors, the newest craziness occupying geek-minds is the rapidly growing proliferation of AI-generated materials, including art and now fiction writing, and probably around the corner… ttrpg scenarios and settings. The community has been struggling with AI-generated art for a while and now people are using ChatGPT and similar tech to create fiction wholecloth.
Neil Clarke, editor of SF fiction magazine Clarkesworld (among others), recently paused his submission intake due to being overwhelmed by AI-generated stories. He wrote a very detailed blogpost, including stats and stories on how this technology has blossomed to overtake his meager intake resources. Worth a read if you want to see how this is specifically affecting the broader community.
On the same note, Chaosium announced recently that it has banned AI art in its community creator communities, and one might think other creator communities would soon take similar measures.
Patreon Plug & Update
We have a Patreon! To back us you can click the button on the sidebar of our website, mu-podcast.com or head over to Patreon directly at www.patreon.com/mup!
The Discord Plug
We have our MUP Discord and we are all there! We invite all of our listeners to come and enjoy the community of horror gaming and cute pet pics. LInk in the show notes: MU Discord server invite link: https://discord.gg/vNjEv9D
And thank you to our editor Nate for editing this episode. Thanks Nate!
Bridgett's Pet Pick Shout Out
This week, I'd like to shout Cashew in their Puppy Palace by listener and fan of the show GardenGM.
Main Topic —
Welcome Oscar Rios to the show!!!
https://www.kickstarter.com/projects/golden-goblin-press/the-legacy-of-arrius-lurco-updated-for-7th-edition