Podcast: Play in new window | Download
Subscribe: Google Podcasts | RSS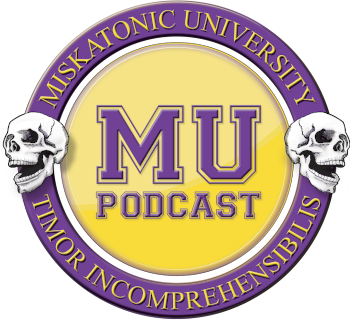 This episode, Keepers Murph & Dave talk with some of our Professor Tiered Patreons!
Campus Crier
The Campus Crier is where we talk about recent Mythos-related events and happenings in the world. This episode was recorded on December 1st, 2022.
Looks like management of Noble Knight Games has shown bad faith in their employees' ramp up to a unionization vote on December 8th. A story on Dicebreaker details the back and forth by management to dissuade employees from joining the unionization effort, as well as examples of management's bad faith comments and attitudes. More in the story on Dicebreaker.
And hot off the presses, it seems that Noble Knight has decided to recognize the union! So congratulations to the workers, and management at Noble Knight for this landmark decision.
Keeper Dave's Patreon Backer Masks Campaign Update
No new updates for my Masks campaign except to say that, as expected, response has been overwhelming. Probably just around the time this episode drops near the end of December we will have made player choices. We've got a mid-January start scheduled, and everyone is all in! More soon on this for sure.
Patreon Plug & Update
We have a Patreon! To back us you can click the button on the sidebar of our website, mu-podcast.com or head over to Patreon directly at www.patreon.com/mup!
And hey, look at three of our top tier backers hanging with us right now. One more incredible perk from backing MUP on Patreon.
The Discord Plug
We have our MUP Discord and we are all there! We invite all of our listeners to come and enjoy the community of horror gaming and cute pet pics.
MU Discord server invite link: https://discord.gg/vNjEv9D
And thank you beaucoup to Max for editing this episode.
Bridgett's Pet Pick Shout Out
"Hey guys! It's me. Ya'girl Bridgett. I know, I know. This time I sound like Dave. I've got raaaange, baaaaby.
Tonight, I'd like to shout out James/Ibis' gorgeous fur baby, Virgil. Listen, this photo of James and Virgil rolling around on the floor is the one of the most wholesome examples of the joy that comes with canine companionship. Thanks for sharing Virgil with us, Ibis. You really seriously consider getting that photo framed. The joy on both of your faces is priceless.
Oh, and I secretly love Dave's accents."
Main Topic —
This is our Professors show! Some of our top-tiered patrons came on the show to hang out with us!