Podcast: Play in new window | Download
Subscribe: Google Podcasts | RSS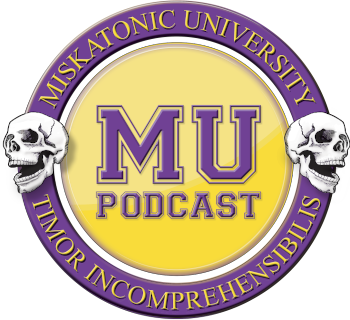 This episode, Keepers Murph, Dave, & Bridgett interview multi-best selling editor and author, Jared Smith, of the Bayt Al Azif: A Magazine for Cthulhu Mythos Roleplaying Games. Tune is as Jared explains the origins story of his unique magazine title, talks about how he commissions covers, content, and more!
Campus Crier
The Campus Crier is where we keep all the mythos related news and info for the podcast, this episode was recorded on August 2, 2021.
UK Games Expo is done and they've had a couple winners of interest. First, the Dee Sanction won the Judges' Award at @UKGamesExpo for Best Role Playing Game! That's a fantastic win for Paul and his company, so many congratulations for them!
Aaaaand, both Vaesen and Alien Destroyer of Worlds won for Best RPG and Best RPG Adventure, respectively. Another fantastic win for Free League Games at UK Games Expo.
The "A Weekend With Good Friends" virtual gaming convention is being held on The Good Friends of Jackson Elias Discord server and will take place the 20th-22nd of August 2021. With international participants, they'll have games running around the clock. The main focus is CoC, however, other games are welcome! I've seen some Kult, Alien RPG, and more! GM Signs ups open as of the date of recording, and game sign ups occur on 8/6. It's a well organized con and quite a bit of fun. Definitely check them out!
The Discord Plug
We have our MUP Discord and we are all there! We invite all of our listeners to come and enjoy the community of horror gaming and cute pet pics.
Seriously. Share those pet pics! BTW– The MUP Community is happy to wish a Happy Belated Gottcha Day to the super cool kitty, Roxie!
MU Discord server invite link: https://discord.gg/vNjEv9D
Patreon Plug
We have a Patreon! To back us you can click the button on the sidebar of our website, mu-podcast.com or head over to Patreon directly at www.patreon.com/mup!
One new backer!
Erik Choy
R. Thomas Thetford
Just a reminder, we're offering Patreon Backers a sneak peek into future episode guests! We rolled this out and some of our best questions for Lynne from Chaosium were Patreon inquiries! So, back us for an opportunity to ask your favorite creators in the TTRPG circuit your questions!
And you can also help out the show by buying some merch from our Teepublic store! HOT TIP! They're on sale for 35% OFF for the next 3 days!
Thanks to our backers so much for supporting the show!!
Main Topic
Interview with Jared Smith of Bayt Al Azif !
Congratulations on…
Issue 1- Gold
Issue 2 – Gold
Issue 3 – Electrum
Listen to find out when Issue 4 drops, how Jared named his magazine, how you can submit a scenario, how you can hire Jared for editing/proofreading, and more!