Podcast: Play in new window | Download
Subscribe: Google Podcasts | RSS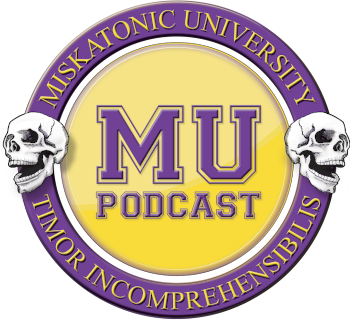 This episode, Keepers Murph & Bridgett sat down with Dr. Lynne Hardy of Chaosium!!! Lynne talked us through Children of Fear, gave us a teaser on Rivers of London, discussed how big publishers handle play testing, answered direct questions from our Patreon Backers, and more!
Campus Crier
The Campus Crier is where we keep all the mythos related news and info for the podcast, this episode was recorded on July 11, 2021.
In celebration of the 40th anniversary of CoC, Chaosium is re-issuing a remastered version of this original box set (via Kickstarter) along with several of its first supplements. It funded in under 10 minutes. This 2" box includes the CoC Rulebook, a sourcebook for the 1920's, a world map, character sheets and more! Backers are plowing through the stretch goals! Unlocked so far are:
In very related news, HPLHS is going to be creating a deluxe prop Set Box to go with the release.
Monte Cook Games announced Stealing Stories for the Devil, a fast-paced tabletop roleplaying game in which you save existence by bending reality to carry out the perfect heist. You play master thieves from the future. Stealing Stories for the Devil can be played by episode or campaign, and promises to digs into the reasons behind the decay of reality. This kickstarter isn't live yet, but you can sign up to be notified at montecookgames.com
And just to let everyone know, it looks like the ENnie nominations have been pushed back to August 13th now. So we all have to wait another month to see if a certain podcast you know of will be shortlisted again.
The Discord Plug
We have our MUP Discord and we are all there! We invite all of our listeners to come and enjoy the community of horror gaming and cute pet pics.
A special shout out to MUP's special girl, Phryne (fry-knee).
MU Discord server invite link: https://discord.gg/vNjEv9D
And thank you beaucoup to Edwin for editing this episode.
Patreon Plug
We have a Patreon! To back us you can click the button on the sidebar of our website, mu-podcast.com or head over to Patreon directly at www.patreon.com/mup!
One new backer!
Michael Daumen
Exciting news! We're going to start offering Patreon Backers a sneak peek into future episode guests! That's right! Would you like to know who is on the line up before an episode lands? Would you like an opportunity to post questions, thoughts, and topics to be sure that we cover with the guest? Back us for an opportunity to ask your favorite creators in the TTRPG circuit your questions!
And you can also help out the show by buying some merch from our Teepublic store!
Thanks to our backers so much for supporting the show!!
Main Topic
Interview with Lynne Hardy
Questions
Pateron Backer Al Smith: Can you talk us through the playtesting process with games like CoF and RoL?
Another Pateron backer wanted to verify… How long would it take to run the entire campaign?
Children of Fear is said to have a flexible plot to allow investigators to determine the journey that they take. Was that challenging to write (lol), surrendering that degree of control?
…and more!
Thank you, Lynne, for joining us!