Podcast: Play in new window | Download
Subscribe: Google Podcasts | RSS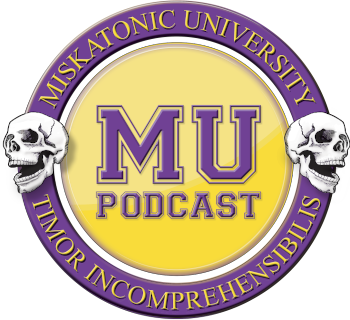 This episode we'll be looking at our game shelves and asking – can I use a board game for my role playing game? And we have Edwin joining us on the horn to help us out. Thanks to Type40 for sponsoring this episode. This episode was recorded on June 20, 2019.
Campus Crier
Our Crier was a little short this week. We'll be back with more next show. The NecronomiCon Providence convention is only 60 days away, (as of this recording), and the list of panels is now available for fans to review. So if you're going to be in Providence in August, check out the list to figure out what panels you'd like to attend. Check out our Discord server here >> Thank you to Edwin for editing AND guest-hosting the show!
Sponsor
Thanks once again to Type40 for sponsoring this episode! Type40 is a maker of all manner of high quality gaming props and items, lots of them specifically for Call of Cthulhu. One kind of tempting item they make are their campaign journals. They are bound in leather, and they have designed stamped or tooled into the covers. So you have one for The Dunwich Horror, with a Miskatonic University shield on it, you have one for At the Mountains of Madness, an official Chaosium one, with detailed art work from the HPLHS. They're selling a set of them now signed by Mike Mason. Check out Type40's whole catalog when you get a chance via the link in the show notes.
By the way, Type40 is planning to be at GenCon this summer, so for any of you planning to be in Indy this year, stop by the Chaosium booth. Allan Carey is a veteran Call of Cthulhu player so swing by for a chat, because he loves to talk about his passion for immersive props.
Listening Room
This week we've got Episode 3 of "The Journals of Laura Logan!" Once again Kerrie TC is available for voice over work if anyone has leads, please send them to kerrietcrpgs@gmail.com. Next up, Mr. Tyler is back with a new installment of his detention hall diatribes. Let's crack open our text books and turn to page…witchcraft.
Topic
Board games as RPG inspiration!
1. Games that can help with setting and world building.
2. Board game (or card games) that have mechanics that could be used for horror RPGs. Mentioned in episode: Fury of Dracula Firefly Eldritch Horror Risk/Axis & Allies Tannhauser Illuminati card game Flux Pandemic