Podcast: Play in new window | Download
Subscribe: Google Podcasts | RSS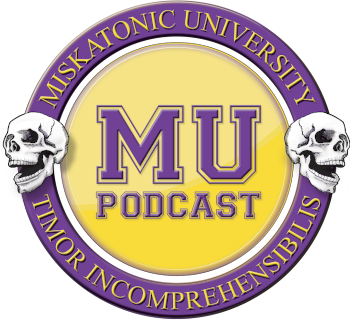 This episode, Keepers Murph & Bridgett unpack Vampire: The Masquerade,.We're joined by backer Mike Diamond! Listen as we attempt to crash through mechanics, lore, history, clans, disciplines, and more in under 90 minutes.
Campus Crier
The Campus Crier is where we talk about recent Mythos-related events and happenings in the world. This episode was recorded Thursday, July 27th, 2023.
This has been a BIG quarter for Chaosium. The Pendragon Starter Set is out, they've released the first volumes of the Cults of RuneQuest books, multiple ENnie nominations including Rivers of London, the Bookshops of Arkham actual play, Community Content, and more! And now, they've just announced a new board game adaption of Call of Cthulhu's Horror on the Orient Express!
Horror on the Orient Express: The Board Game brings the award-winning Call of Cthulhu horror and mystery TTRPG into the world of board gaming. Special rules, ongoing character development, and awesome play pieces all providing a challenging and exciting gaming experience.
Horror on the Orient Express: The Board Game is a cooperative game in which you and other investigators have to survive on the doomed train. To win, you must discover and hunt out the cultists to stop them performing a hideous ritual, as well as make sure that the train reaches its destination. With all manner of dangers facing you, the challenge is to survive, stop the horrors of the Dreamlands, and prevent calamity. The Kickstarter for the game launches next year, with a planned release date in 2025.
Speaking of ENnie nominees, let's shout out just a handful of congratulations to our friends and previous guests who are being recognized! Apologies if we missed anyone, it wasn't intentional!
In other news, the community is BUZZING! The Old Gods of Appalachia kickstarter books are shipping and folk are going bonkers! At the time of recording, they're arriving in inboxes and mailboxes nation. I'll actually be picking up my rewards in person at GenCon next week.
Patreon Plug & Update
We have a Patreon! To back us you can click the button on the sidebar of our website, mu-podcast.com or head over to Patreon directly at www.patreon.com/mup!
The Discord Plug
We have our MUP Discord and we are all there! We invite all of our listeners to come and enjoy the community of horror gaming and cute pet pics. Link in the show notes: MU Discord server invite link: https://discord.gg/vNjEv9D
And thank you to our editor Nate for editing this episode. Thanks Nate!
Bridgett's Pet Pick Shout Out
Shouting out and also welcoming home, Jackson Elias, from listener Targard! Bear, his other dog, is already my baby, and Jackson Elias is already settling in so nicely!
Main Topic — Vampire: The Masquerade Unpack