Podcast: Play in new window | Download
Subscribe: Google Podcasts | RSS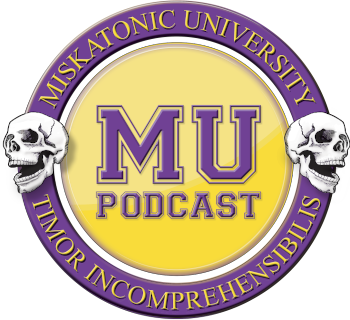 This episode, Keepers Murph and Bridgett interview Jim Phillips, the founder and operator of Skype of Cthulhu, a Call of Cthulhu actual play who have just posted their 800th episode back at the end of April! Congratulations and welcome back, Jim!
Campus Crier
The Campus Crier is where we keep all the mythos related news and info for the podcast, this episode was recorded on May 5, 2022.
Free League's Blade Runner RPG has launched and already broken $1m. And with that, it finally broke Dave's wallet. I managed not to back this one!
Jason Cordova's rpg Brindlewood Bay kickstarter is doing a smashing job with its small-town murder mystery setting. If you are a fan of small town mysteries such as Murder She Wrote, then this is your jam.
Chaosium released a shipping update on some highly anticipated releases to include
— Cults of Cthulhu*
— A Time to Harvest*
— Call of Cthulhu Starter Set (40th Anniversary edition, with new box art)
— Plus, fulfilment of the long-awaited Call of Cthulhu Classic Kickstarter! (if you missed the Kickstarter, we'll be selling the remaining copies via Chaosium.com AFTER distribution to backers is completed).
We're looking at May (and perhaps into early June).
The Discord Plug
We have our MUP Discord and we are all there! We invite all of our listeners to come and enjoy the community of horror gaming and cute pet pics.
Bridgett's Pet Pick Shout Out
Shouting out Toast, listener and fan of the show, TLemon's gorgeous kittuh. Seriously guys, this cat is like a dreamy combo of asphalt, concrete, stainless steel, and gorgeous!

MU Discord server invite link: https://discord.gg/vNjEv9D
Patreon Plug
We have a Patreon! To back us you can click the button on the sidebar of our website, mu-podcast.com or head over to Patreon directly at www.patreon.com/mup!
We need to thank our newest backer, Nathan Pidde! HA! I just got an email from Nathan that made my heart smile. Hopefully you all will be hearing more from him soon!
And you can also help out the show by buying some merch from our Teepublic store!
Thanks to our backers so much for supporting the show!!
Main Topic
Jim Phillips of Skype of Cthulhu