Podcast: Play in new window | Download
Subscribe: Google Podcasts | RSS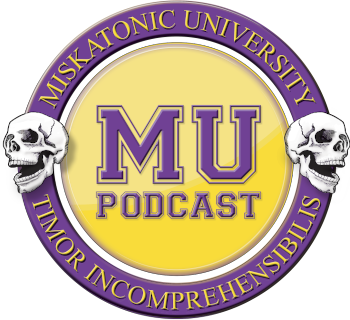 This episode, Keepers Murph, Dave, and Bridgett interview YouTuber and bestselling Miskatonic Repository author, Michael Fryda!
Campus Crier
The Campus Crier is where we keep all the mythos related news and info for the podcast, this episode was recorded on April 21, 2022.
The Old Gods of Appalachia Kickstarter is underway and is already crushing it with over 9300 backers and almost $1.3 Million raised. This kickstarter runs through May 6th.
The Alien Colony War book that includes a scenario by friend of the show Drew Gaska was released on April 26th.
The first round of the HPLHS Call of Cthulhu Classic Prop Box is starting to appear and it's another top shelf item.
The Discord Plug
We have our MUP Discord and we are all there! We invite all of our listeners to come and enjoy the community of horror gaming and cute pet pics.
MU Discord server invite link: https://discord.gg/vNjEv9D
Bridgett's Pet Pick Shout Out
Shout out to backer Cornysams– thank you for sharing your new kittuh with us, Sugar, or as his partner calls her, Shug.
Also, welcome to the best foster home ever to the bulldog, Eloise! Thank you listener, HelloSpaceBoy, for sharing this lovely baby with us!
And thank you beaucoup to Edwin for editing this episode.
Patreon Plug
We have a Patreon! To back us you can click the button on the sidebar of our website, mu-podcast.com or head over to Patreon directly at www.patreon.com/mup!
We need to thank our newest backer, Darrin Chandler!
And you can also help out the show by buying some merch from our Teepublic store!
Thanks to our backers so much for supporting the show!!
Main Topic — Michael Fryda
@imaginingsRPG (Twitter)
https://www.youtube.com/c/RPGImaginings/videos
https://www.youtube.com/c/ClutchSituation
https://www.drivethrurpg.com/browse.php?author=Michael%20Fryda
…You will worship her.