Aug 30, 2015
Podcast: Play in new window | Download (Duration: 1:52:54 — 104.1MB)
Subscribe: Apple Podcasts | Android | Google Podcasts | RSS
Download this episode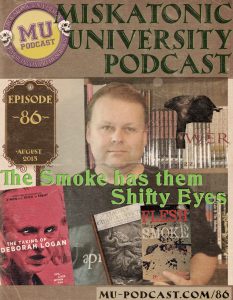 Episode 86 sees Keepers Jon and Dan back, talking with friend of the show Brian Sammons! He's had a veritable deluge of new titles featuring his work lately, so we brought him in to chat about all the new goodness we can get our talons on. Then we do some free-form riffing on using Shape Shifters in game, and the general philosophy of them in pop culture. We'll be resuming our regular release schedule with episode 87! This episode was recorded on August 30, 2015.
Golden Goblin Press is launching their Tales of the Caribbean Call of Cthulhu sourcebook Kickstarter on September 9th! Get your pennies together, because GG has yet to disappoint!
Golden Goblin has also released the Tales of Cthulhu Invictus fiction Anthology, which was edited by today's guest Brian Sammons.
Chaosium Releases-
Chaosium has released the long-awaited scenario book Doors to Darkness, which is a book of single evening-scenarios with additional commentary to assist the first time Call of Cthulhu Keeper! We'll share links when the book becomes available on the web.
Edge of Sundown is a fiction anthology of horror that takes place in the Wild West!
While Brian didn't work on this one, he wanted to mention that Chaosium has just released an anthology of werewolf stories called Mark of the Beast.
Another new one that Brian did edit is the long awaited Legacy of the Re-Animator. This is an anthology of further tales about Dr. Herbert West.
And lastly from the Chaosium front, is Atomic Age Cthulhu, a companion fiction anthology to the Call of Cthulhu Atomic Age sourcebook.
Brian's latest release is Flesh Like Smoke, a fiction anthology from April Moon Books that focuses on Shape Shifters of all kinds, not just the werewolves you may be used to.
During the conversation, Brian brought up a couple of film pics that he highly recommends. The first being The Taking of Deborah Logan. Available on NetFlix, and he says is best seen with no fore knowledge.
Wer is the other movie he recommends, which is a werewolf movie taken from a very scientific point of view in how they would work, in a biological sense.
Brian's contact links-
Twitter
The book of Many Faces
Brian has also been a regular on the Evil Episodes Podcast, about horror TV, and he's going to be producing a podcast for Dark Regions Press called Dark Regions Radio!
We'll share on the show when he launches that program. It's going to be a monthly literary audio magazine with an interview of an author, a full reading of one of their stories, and a coupon code for listeners for the Dark Regions website.
Cryptocurium Spotlight
The October Halloween Edition of the Parcel of Terror will be a blind mystery box! This is the first Parcel to be completely unknown, but who doesn't like a big Halloween box of mysterious tricks and treats!
Discuss this episode on the Campus Forum