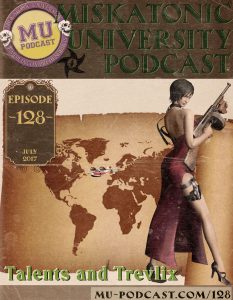 This episode, all four hosts are back to continue the expedition into Pulp Cthulhu, with a closer look at Pulp Talents. To help shed some light on Pulp gaming in general, we're bringing in another ringer, Tyler Hudak (a.k.a
Trevlix
)! This episode was recorded on, July 24, 2017.
Campus Crier
Masks of Nyarlathotep update: By agreement with Chaosium and the MoNC creators, the PDF version has now been put on sale, and the profits from those sales will directly benefit Yog-Sothoth. The Companion is available directly (and exclusively) from Chaosium's web site.
UPDATE:
The Yellow King RPG from Pelgrane Press
- the Kickstarter closed with a whopping 2,288 backers for a grand total of about $218,000.
Other Hasturian RPGs already exist: [url=ttp://
www.lulu.com/us/en/shop/david-j-rodger/ ... 56478.html
]YELLOW DAWN - The Age of Hastur[/url] by David J Rodger
And there is a setting supplement for the
Lamentations of the Flame Princess
RPG
Here's a whole forum for lovers of
Carcosa as a setting >>
New Shoggoth minis for Feed the Shoggoth! are available! They come in four colors: Baleful Black, Putrid Purple, Blasphemous Bronze, and Grotesque Green! $10 each, or get all four for $30! For sale at
www.feedtheshoggoth.com
.
The Complete Fiction of H.P. Lovecraft
- an Audiobook from the HPLHS
**Currently Only Available for Pre-Order. Release Date: August 20**
For the first time ever, the H.P. Lovecraft Historical Society has produced an audio recording of all of Lovecraft's stories.
Old Ones Rising
, an Unspeakable Oath collection, releases this August
Arc Dream Publishing announced today that Old Ones Rising, a collection of issues 18–21 of Ennie Award-winning magazine The Unspeakable Oath, will hit shelves this August. This 280-page paperback (ISBN 978-1-940410-23-4) retails for $39.99 and will be available to the book trade from Ingram and Brodart, and to all major hobby distributors from Arc Dream's partners at Studio 2 Publishing. Old Ones Rising includes full scenarios, extensively-researched feature articles, scenario seeds, campaign tools, reviews, Delta Green columns, and more.
Abandon Ship
will feature large, Lovecraftian sea monsters too
In its mix of FTL and Sunless-Sea gameplay, Abandon Ship won't just have you facing off against fellow ship captains, you'll also have to ward of the tentacle'd grasp of sea monsters which look like they've been pulled right out of Lovecraft's pages.
News fresh from Darker Hue Studios!
The digital version of HARLEM UNBOUND (digital) is upon us! After very successful Kickstarter earlier this year, Chris Spivey, the CEO of Darker Hue Studios, has announced that the digital version of HARLEM UNBOUND will be available this Friday, July 28 on Amazon, The Darker Hue website (
www.darkerhuestudios.com
) and RPGNOW!
Don't miss out on a dive into the rich mythos laden streets of the Harlem Renaissance, and explore Lovecraft in a whole new way. HARLEM UNBOUND is written for both the sanity shattering 7th edition Call of Cthulhu or the sleuthing powered Gumshoe OGL.
Oats Studios
- Amazing studio of short films by Neil Blomkamp on YouTube.
One of the Masters of Horror has left us.
RIP George Romero
MUP Fundraiser!
Thanks to everyone who chipped in. As of recording we are $200 away from the "release goal" the ransom. Once we reach that goal, a scenario by Keeper Jon will be released. We've seen a preview of the layout, and it looks amazing. Also, there are a few games on offer. Check out the fundraiser page to learn more.
Card Catalog
A smattering of cool sites from the irrepressible Keeper Murph:
Public Domain Review
Atlas Obscura
BibliOdessey
Topic
Pulp "Talents" in Pulp Cthulhu, and the meaning of "Pulp" gaming, other game systems. What is Pulp Horror-Adventure vs. Pulp Adventure?
Lapham's Quarterly
http://www.laphamsquarterly.org/
Check out this photo of Tyler's puzzle prop for his globe-spanning pulp campaign: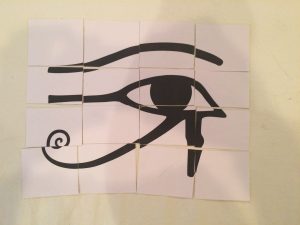 Tyler also mentioned his involvement in the upcoming online convention,
Virtuacon
, which kicks off this October 6th.