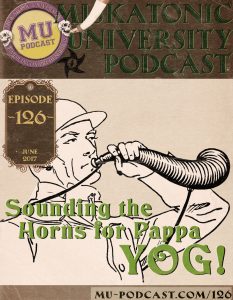 This episode, Chad and Dan are joined by Sean, a Keeper and Captain for an Extra Life team last Autumn. We talk about a slurry of topics that have been simmering in Sean's mind lately. This episode was recorded on, June 26, 2017, and is dedicated to the progenitor of MUP, Yog-Sothoth.com!
Campus Crier
♞ Big YSDC news: Some disappointing news on the Masks of Nyarlathotep Kickstarter campaign. The good news is that all backers are getting the stuff they were promised. Bad news: Paul unexpectedly had to give up a whopping 10,000 pounds of profit that was meant to keep YSDC running so that the rewards of the Kickstarter could be 100% fulfilled. It was due to a "miscalculation." So only 3,000 pounds was left to actually benefit the site, after 10 years and tons of volunteer effort.
Because of this, Paul of Cthulhu is selling off his entire Call of Cthulhu collection to raise funds to keep YSDC going. (He has stated a touching sentiment that since the joy he gets from the game is about friends and players and playing instead of "stuff," this move is a positive way to focus his passion where it matters most.)
ALL OF THAT SAID, Paul of Cthulhu has announced that to keep the website in good stead, he is selling off his entire Call of Cthulhu collection - which includes nearly everything ever made for the game, including rare editions and original manuscripts.
As of release of this episode a week after recording, Paul has now sold his entire collection to a single buyer!
He said he know it is going to a good home, and is please with the amount agreed upon.
http://www.yog-sothoth.com/articles.html/_/main/the-fall-of-the-wall-the-greatest-call-of-cthulhu-sale-in-history
♞The Yellow King RPG from Pelgrane Press.
Inspired by Robert W. Chambers' influential cycle of short stories, YKRPG pits the characters against the reality-altering horror of The King in Yellow. This suppressed play, once read, invites madness. Or a visit from its titular character, an alien ruler intent on invading and remolding our world into a colony of their planet, Carcosa. Four books, served up together in a beautiful slipcase, confront your players with an epic journey into
reality horror
.
https://www.kickstarter.com/projects/1721105501/the-yellow-king-roleplaying-game-from-robin-d-laws
And they discuss the game on KARTAS
.
♞New Lovecraftian drama from Chris Lackey, and usual suspects, called Quiet and Bold. Said to be Kickstarted for an episode called "Bride of Innsmouth." Below is The Scorned House.
https://www.youtube.com/watch?v=Z6DKcDnFXXE
♞
Lovecraftian Horror Has Never Looked More Adorable Than It Does in This Animated Short
(held over from E125)
♞
Cthulhu Dark campaign concluded at a total of £71,835 (or $91,384) - with 1747 backers!
Dorward's campaign did not get unlocked, but Graham says it'll be revived in some way down the road.
♞
New web and TV series re-tells the story of H.P. Lovecraft's Re-Animator
Chaosium News-
♞
CHAOSIUM APPOINTS LILLIAN COHEN-MOORE AS DIRECTOR OF MARKETING & MEDIA
Writer, journalist and editor
Lillian Cohen-Moore
has joined the Chaosium team as director of marketing and media, it was announced today.
"Lillian's professional experience extends across the game industry and fiction sphere, particularly in the genres of horror and weird fiction. So she's an excellent fit for what we do at Chaosium", said Michael O'Brien, Chaosium vice president.
Lillian's extensive
RPG writing and editing credits
include releases for White Wolf, Paizo, Atlas Games, Catalyst Game Labs, and many others.
Listener Feedback
We received a new Speak Pipe voice message from DM Cojo!
Sanekdotes- Paladium: Beyond the Supernatural
https://en.wikipedia.org/wiki/Beyond_the_Supernatural
http://palladium-store.com/1001/category/Beyond-the-Supernatural.html
DM Cojo appears as a guest on this podcast, called
THAC0's HAMMER
DM Cojo on G+
Topics
Saying "Yes" in a Mystery: I try very hard to say "yes" to players in most games I run but I have a bit of trouble doing so in CoC or similar games because there is an endpoint that has to be reached. It is even more problematic at a convention where time is a limiting factor. I'd be curious how others have handled this in games. The genesis of this musing is that I'm preparing to run the Dracula Dossier for my group, which is improvisational at its core - it isn't a direct apple-to-apples with CoC but it got me wondering how much you could stretch Call.
Immersion: When are game mechanics part of the fun and when do they prevent immersion? For example: I've run games at conventions where all I told the players was a general description of their character. The players then go into the game no worried about "gaming" their character stats but rather focus on "What could a police inspector reasonably do? I've tried it where they roll and tell me the results and where I roll behind the screen (which leads to questions like "Hmm, am I not hearing anything because it isn't there or because I failed my roll?").
[Note from Chad: I've also heard of some keepers only describing damage and only keeping track of hit points behind the screen.]
You don't have to become a Patron to support YSDC. You could just chip in a one time donation to
YSDC's Collection Box
. Any amount will do! One dollar, two dollars, three dollars...guys I'm blanking on the names of other dollar amounts...
And hey, bad Fund Drive pitches aside, do us a favor. If you do end up contributing something to YSDC, add a little Go Pods in the message box or Send a message to the MU Podcast thread on YSDC to let us know. We're basically fishing for credit. It'd be nice to find what kind of support MU nation is able to send their way.
Here are links to the Extra Life fundraiser that Sean was part of:
MUP Interview – Extra Life
October 2016
MUP 113 – A Group's 1-Minute Horror with Mayor McPain
November 2016