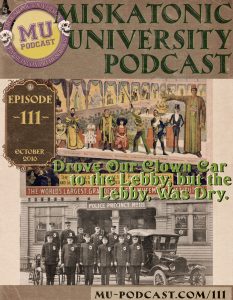 In this episode, a skeleton crew of Dan and Chad talk about a couple of our favorite investigator groups and how to use them. This episode was recorded on October 17, 2016.
Campus Crier
An update on the MUP 2016 "One Minute of Horror" contest:
No submissions yet. Sad trombone. (Actually, since recording we have gotten one submission.) Send yours in now!
Announcing prizes:
1st Place: Print copies of Island of Ignorance and Nameless Horrors (equivalents negotiable).
2nd Place: Print copies of Arkham Gazette #3 and an Age of Cthulhu book of your choice.
3rd: A print copy of The Things We Leave Behind (any previous offer to give away Murph's Unwashed Fez is retracted and / or never happened and you can't prove it).
All three places will get cool swag including MUP dice AND a Dropbox link that will include downloadable copies of old history segments, some re-mixed, along with other audio terrors.
Five Points is
available for purchase
- Five Points is a game of urban horror in America's first melting pot, the Five Points neighborhood of New York City. Set in the 1840s and 50s against a backdrop of the Cthulhu Mythos, Five Points is powered by Dark Streets from Cakebread & Walton. Players take on the roles of runners or advisors for the Bowery Street Runners, an homage to the Bow Street Runners from London's past, fighting against the terrors of the night. Can you stop them before the stars are right?
Hudson & Brand, Inquiry Agents of the Obscure
- Kiskstarter has only a few days to go!
Sun Spots Kickstarter
is done, reaching all stretch goals! $15,972 pledged of $5,000 goal
Canageek sent in this cool arcticle from Nerdist:
Watercolor Horror Movie Posters Are a Nightmare of Awesome
Extra Life
24-hr game-a-thon interview - check it out if you haven't already.
Chaosium News:
The license was cancelled for the ill-fated
Masks of Nyarlathotep Prop Set Kickstarter
. There is also a mention of the failed
Cthulhu for FATE campaign.
Plans to fulfill the rest of the 7e Kickstarter have been
announced
, with apologies. Backers will not receive several of the items originally promised, including dice and dicebag, bookmarks, backer pins and t-shirts and Innsmouth Gold coins. A PDF copy of Doors to Darkness has been offered instead.
Chaosium has learned the difficult and painful lesson of straying from its core strengths. We are a game company, and need to focus on the games we make, not producing t-shirts, jewelry, mugs, and other similar items.
Card Catalog
From
The Graham Special Collections
wing of the Orne Library:
Stumbled across a site that covers Radioactive Quack cures of the Classic era, all the pills, potions, water 'energizers' and toothpaste(!) that's good for what ails you.
Topics
Investigator Groups - or how to manufacture plausible reasons for characters to do all this crazy stuff!
Investigator companion- page 122 of the 7th Edition rulebook.
Here is an
excellent thread
on YSDC about general classes of investigator groups.
Here's a bit about "Humbug," the
X-files circus episode
mentioned during the show.
The circus off-season towns of
Peru, Indiana
and
Gibsonton, Florida
are mentioned.