In Episode 22, we'll launch the New Year from the other side of the Keeper screen with some tips for players, burrow into the Dreamlands Underworld for a visit to the Bestiary, and we'll talk about the proposed "Connections" mechanic in the play-tested draft of 7th Edition.
Campus Crier
• Only one more week to enter the Build an Elder God contest.
So far, we've got just one entry. Are there no challengers for this esteemed prize of > $100 value?
To enter, write up a new Elder God, Great Old One, or Outer God. Stats aren't what we're looking at so much as a creative description of the being, history, location, and ways Investigators might come in contact with it or its servants or cultists.
You can submit the entries to
contest@mu-podcast.com
, and the due date for entries is January 15th. The entries will be posted, and the community can vote on them to determine the winner. The voting will be open until January 22nd.
•
Punktown
from Miskatonic River Press was funded successfully, with more than $13,000. Not bad, considering they were shooting for $9,000 to print the book.
• And the
NecronomiCon
Kickstarter for convention seed money has met its funding goal.
• Jon mentions the
Roll for Initiative
podcast, a show focused on old school Advanced Dungeons and Dragons that often mentions Call of Cthulhu along the way. In one of their early episodes, they interviewed
TSR giant Jeff Grubb
, who talked about some Call of Cthulhu war stories along the way.
One of the show's hosts,
DM Nick
, occasionally posts on our forum as
Blackstone
.
• Achtung! Cthulhu is launching a Kickstarter to craft a line of
WWII 28mm Heroes and Villains Miniatures
.
Check out the
briefing from Modiphius's Chris Birch
.
(Note: During the show, Chad mentions that this might be compatible with the Lovecraftian miniatures game system
Strange Aeons
, which turns out to be at the 25mm scale, so crossover won't be easy to pull off.)
• Speaking of zombie Nazis, there's a great Norwegian indy film called
Dead Snow
that scratches that itch. We checked -- it's available to stream on Netflix.
• While we're on a movie tangent, Dan mentions checking out Finnish film
Rare Exports
during the holiday -- a story he says could easily be a Call of Cthulhu investigation!
The Rare Exports movie is based on two short films, available to watch
HERE
and
HERE
. (Not Safe for Work!)
MU History Department Lecture
This week's lecture from Dr. Gerard delves into a real-life inspiration for pulp adventures, in Percy Fawcett's "The Lost City of Zed."
7th Edition
And we finally get around to one of the draft rules that didn't sit well with our group. Check out our coverage of the storytelling mechanic known as "Connections."
The Bestiary
In our latest installment of the monster menagerie segment,
Gugs
!
Another image
http://en.allexperts.com/q/Biology-664/2010/3/Speculative-biology-Lovecraft-gugs.htm
Jon mentions the appearance of a Gug in Fantasy Flight's novel [url=amazon:
http://www.amazon.com/Ghouls-Miskatonic ... miskatonic
fantasy flight:
http://www.fantasyflightgames.com/edge_ ... %20Trilogy
]Ghouls of the Miskatonic[/url], written by Graham McNeill.
Main Topic
Tips for players and character background ideas...
We kick off the discussion with an old standby, the
10 Commandments of Cthulhu Hunting
, which appears in
The Cthulhu Casebook
, by Sandy Petersen and John B. Monroe, and also
Keeper's Compendium I
.
1. Keep it Secret
2. Stay Together
3. Act in Haste, Repent at Leisure -- Dan mentions regretting an impulsive move while playing in
Skype of Cthulhu's Grave Concern
. The module he plays in is from a book of solo scenarios called
Monophobia
.
4. Always Have a Plan
5. Scout It Out
6. Guns are a Last Resort
7. Know Your Enemy
8. Things Are Not Always as They Seem
9. Never Give Up
10. Be Prepared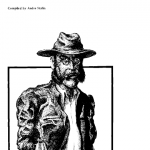 Jon pulls his copy of the Theron Marks Society off his bookshelf. It's out of print, but we're looking for a way to make this material available (legally).
Chad mentions some ways to role play skills like Spot Hidden and Fast Talk. He's working up a list of techniques that will be posted on the forum.
We would also love to hear your ideas for topics for us to talk about.
Send us a note directly
, or go to the
Campus forum
with your ideas!