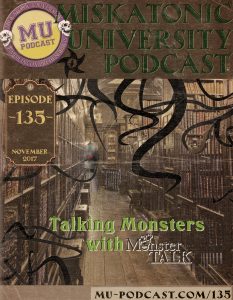 In this episode, Dan, Jon and Chad talk with guest Blake Smith from the
Monster Talk Podcast
! We talk about cryptids as well as other monsters and Forteana. This episode was recorded on November 20, 2017.
Campus Crier
Carl Ford, editor of the 80s fanzine DAGON, has died. Read this excellent post with some
backstory on the magazine here
.
Extra Life update: The New England Gamers Extra Life team wants to thank all of its many supporters and sponsors for their help in raising over $7,000 in 2017 to support the Children's Miracle Network Hospitals. Gamers participated in fundraising events at multiple conventions, including an exciting multi-Keeper event at NecronomiCon. At the 24-hour Twitch-streamed gaming marathon, over $1,800 in donations came in from around the world. Donors won 49 prizes valued at over $1000 total from our wonderful sponsors: Frog God Games, Kobold Press, Chaosium, Gallant Knight Games, Pacesetter Games, Squamous Studios, and the H. P. Lovecraft Historical Society. In addition, Frog God Games is providing $945 in matching PDFs for donations of $50 and up.
The Cold Warning PDF is now on sale via the
Golden Goblin Press
website, and will soon (a few days) be available as Print on Demand via DriveThruRPG.com
A reminder that the 2018 Chaosium Convention Scenario Contest has been announced - Submit adventure pitches to the Cult of Chaos on the BRP Central forums:
https://basicroleplaying.org/
Topic
Blake has
dropped Part 1 of a multi-part look at grimoires
with the guest, Jerry Drake, who Blake says is probably as close to a Lovecraftian protagonist as he's met in real life.
Blake has been published in
Fortean Times
,
Weird Tales
,
Skeptic
and
Skeptical Inquirer
. He's working on a book now called The Invention Fallacy which is about how technology works, ancient aliens and why people don't understand Innovation.
Links to sites that allow newspaper article creation for gaming.
https://www.fodey.com/generators/newspaper/snippet.asp
https://newspaper.jaguarpaw.co.uk/
Blake mentions
The Beyond
as a great Lovecraftian film (
Trailer
).
The Bell Witch
Jack Parsons
(rocket engineer & wizard)
Noirlathotep: Tales of Lovecraftian Crime
Flatwoods monster
Apophenia
Ultraterrestrial
- Interdimensional hypothesis
Pangboche Hand
The Mysterious Monsters
The H.P. Lovecraft Historical Society -
The Whisperer in Darkness
.