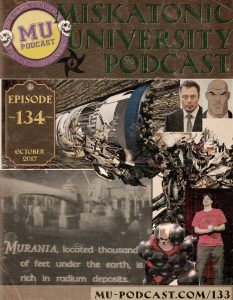 In this episode, Jon, Chad, and Dan stay in the realm of Pulp Cthulhu with a little brainstorming on machinery that could be created by Mythos entities for PCs to then get their grubby little hands on. And Chad has a complete fangasm while recording. It's pretty great. This episode was recorded on October 23, 2017.
Campus Crier
Praxis Black Monk
The Black Monk is a series of five games set in a strange fantasy world where time means nothing anymore. Each game is set in a unique part of a desolate world, with strange characters passing the time until the Black Monk visits. In between these visits, the character's lives are interrupted by sometimes trivial and other times confusing events. Everything seems to fit together like an elongated jigsaw puzzle, but no one can see the starter pieces stretching across the horizon. Then one evening, the sun stayed in the sky all day. When there should have been night, the sun remained. And now it feels as though it's been years since the Black Monk came. But perhaps it was yesterday. Nothing is right…
(Chad) In Episode 132, I mentioned - barely mentioned - that I was a guest on
Legends of Tabletop
during their NecronomiCon recap. I failed to mention any other guests and I want to do that now:
http://www.legendsoftabletop.com/?p=348&
(Travel blog)
http://www.legendsoftabletop.com/?p=2949&
(episode)
John Haremza, one of the regular hosts.
Leah Bond, regular host on LoT
Jesse from the Dragon Fisters podcast
Jef Wilkins from Into the Darkness
Ash Darrow: Gothic studies graduate student and NCon panelist
Brett Miller, Musician and composer
Peter Rawlik, weird fiction author
Also, they just dropped
an episode with Niels Hobbs
where they talk about a lot of topics including the two big controversies in 2017 and 2015.
Also, the
panel we were on with the Legends guys about gaming is now posted
. While we're at it, let's post a round up of all the gaming panels we can find from the Good Friends feed and others here in the show notes!
Good Friends of Jackson Elias recorded panels:
Call of Cthulhu Campaigns Panel
Pulp vs. Pure Panel - with Keeper Dan!
Favorite Call of Cthulhu Scenarios Panel - with Keeper Chad!
(Jon)
AetherCon VI
- November 10-12, this is an online RPG convention. The convention features a number of live panels that fans can attend via YouTube. I'm hosting two panels and running one game at the con. If anyone wants to try out the Yellow King RPG, my table is currently wide open. No one has signed up for it as of this recording. My game is scheduled for Saturday the 11th starting at midnight US Central Time.
http://www.aethercon.com
Panel: Dem Dry Bones
Panel: Balancing Magic & Technology
Game: Yellow King RPG - Dark Alley Deals
IGN has purchased Humble Bundle.
Humble Bundle last month announced that it had raised a total of $100 million for charity since the first Humble Bundle went on sale in 2010.
Cthulhu Dark
- Update 25 - If you check your BackerKit account, you'll find
As Good As A Feast
, Mo Holkar's wonderful mystery set in the 1930s Dust Bowl, which we unlocked as a stretch goal. I think you'll enjoy it.
From Edwin
: Nov. 17 starting at 6 PM EST and running live for 24 hours on
www.twitch.tv/froggodgames
Our goal is to raise $5000 for

http://www.extra-life.org

. Edwin Nagy will be running Rappan Athuk and some material from Kobold Press for a Bangor, Maine-based group of gamers. The event is being sponsored by Frog God Games and Kobold Press, and they will have prizes available during the entire affair. In addition, audience donations will control the game and allow the PCs to level up. New monsters can be added, plots can be twisted, health can be restored, all for the asking (and the giving). At midnight, Sean Murphy will run a scenario from Down Darker Trails sponsored by Chaosium and the H. P. Lovecraft Historical Society. Fabulous CoC-related prizes from them will be available to people who donate during the game. The crew will be on the chat the entire night. Please help them make it through the night with your donations and chatter. All this gaming goodness is in support of Extra Life, which gives the money directly to hospitals in the Children's Miracle Network. That's right—playing games to help save children's lives. The New England Gamers team page is at

https://goo.gl/bU82Ja

or search at Extra Life for Team NEG
D20 CoC now available on RPG NOW
Halloween Sale on Spectrum Games stuff
(Macabre Tales, Stories from the Grave and Slasher Flick) - PDFs for crazy cheap:
io9
-
All-Time Masterpiece RPG Call of Cthulhu Will Never Die
The 'Necronomnomnom' Is a Horrific, Lovecraft-Inspired Cookbook
Food and Wine's article
Bloody Disgusting- Someone Made a Necronomicon Pop Up Book and It's Amazing
Order it here!
Card Catalog
A Deep Background Item for the Card Catalog
Hi Guys,

I stumbled across a site that contains a lot of background information on hand tools (wrenches, pliers, etc), who made them, when and under what brand names. One of the highlights is a three part look into the various house brands used by Sears and Roebuck (Craftsman, Cross Country, Dunlap Fulton (Also known as Fulton Tool Co.) & Merit) for their hand tool lines and who supplied those tools.0

This looks to be a good resource for deep background information. Reading through the site brought up one case of a tool company (S-K Tools) selling the same products under two different names, their own brand name and a 'pseudo-brand' (Brazil Tools) that individual retailers (Most likely auto parts shops.) could claim was their house brand.

http://alloy-artifacts.org/index.html

One idea that did spring to mind from all this would be the idea of someone offering hand tools from a new manufacturer that was in some way, shape or form tainted by the Mythos.

Graham
Listener feedback
-
Voicemail from John Sullivan. (Transcription by Google Voice)
This is John Sullivan. This is a message for keeper chat. I just wanted to say I listen to the pantech renada con panel that you were on and I wanted to say thank you very much for picking paper chase. I was deeply honored that you enjoyed it so much, and so did the rest of the panel apparently it's really been inspiring encouraging for me as well. I'm trying to get back into gaming writing as well as doing some other stuff and miss cotati university podcast as that episode. I do not miss so thanks again, and thanks to everybody else for the podcast and go pods.
Topic
-
Pulp Monster Tech!
Jon- Elder Things - Exsiccate Ray & Glob Stick
RPF thread of someone building the Dehydrator from Batman
Chad- Formless Spawn of Tsoggua - formless spawn infused with 1930s Dust Bowl farm equipment
The Phantom Empire
(Gene Autry fighting subterranians!)
The HPLHS Mum-E-Duster
Giant machines fighting with meat tied to them
!
Dan- Serpent People - Drill Tank
Elon Musk's The Boring Company
Article about the company
Here are links to the fantastic BRP Gold Book with many more psychic powers-
Print Edition
PDF Edition