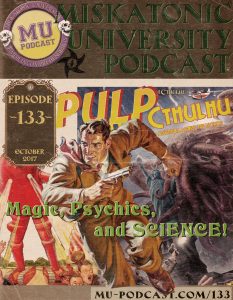 In this episode, Jon, Murph, Chad, and Dan are joined by Christopher Smith Adair to talk about Chapter 6 of Pulp Cthulhu, Pulp Magic, Psychics, and Weird SCIENCE! This episode was recorded on October 9, 2017.
Campus Crier
The Dare has funded and wrapped up
. 667 backers. Over $10,400 raised. Met nearly all of its stretch goals, the last one of which I am helping with - Mythos and notable pulp writers and figures in child form as pregens.
The Haunted Clubhouse
is a lethal and harrowing
Call of Cthulhu
Role Playing adventure.
Devil's Swamp funded
and only has three days left (will be closed by air time). 608 backers, +$21,400 raised.
For the Love Of
is available for download, and has been >745 times!
Dark Times is out
!
Fantasy Flight Games has announced a
Masks on Nyarly expansion for Eldritch Horror
...
Mythos Horrors during the French Revolution!
Reign of Terror
Focus Home Interactive's Call Of Cthulhu has been delayed until 2018
.
From Edwin
-
A little something that you might want to share with the listeners (if you haven't already),
Reckoning of the Dead
One of the hosts of site, Matt, ran an excellent game at NC that I played in.0p
Correspondent report
: Christopher went to the HPL film fest in Portland, Oregon
http://www.hplfilmfestival.com/
Lovecraft Christmas Cards
https://www.facebook.com/soundfromthedeep/
Listener feedback
-
5-Star in iTunes by odder2100 from Denmark on September 14, 2017
Great source of (dark) knowledge
"This is a fantastic podcast. I have learned so much, while being entertained at the same time. A special thanks to Jon Hook, as my first game as a keeper was with his terrific scenario "For the love of", which is free on their website. Go Pods!"
Topic
-
Pulp Cthulhu Chapter 6, Magic, Psychic Powers and Weird Science!
Christopher talks about his experiences using these rules in his playtests of A Cold Fire Within, the Pulp Campaign he wrote for Chaosium.