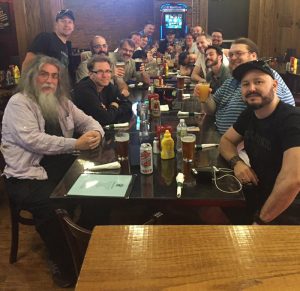 Here it is! The epic live show from NecronomiCon Providence 2017!
This is a never-before performed degenerate hybrid mashup Frankenpodcast about Call of Cthulhu and other weird horror gaming things. We are proud to have this be a co-production with the Good Friends of Jackson Elias!
We have a live History Segment from Dr. Gerard on the topic of: Eclipse Monsters.
This episode's main topic is: "What makes your game Lovecraftian?"
Finding and drawing out the Lovecraft in:
Setting and Era, Themes, Monsters, and More generally, how do you bring the Lovecraft?
We also have questions from the fantastic live audience.