This episode, Murf, Chad and Dan get together for a shorter show to give a Crier update, then some talk about NecronomiCon Providence. This episode was recorded on, August 7, 2017.
Campus Crier
Our thoughts go out to Joe Pulver
, who has had some health problems recently and won't be able to attend NecronomiCon. There has been some pretty good news on that front, it's not as serious as feared, but he's still out of commish and he and his wife could use a boost if you've got something to donate to help while he's in recovery. Katrin says "a huge huge thank you" to those in the community who have helped defray some of the medical bills.
https://www.gofundme.com/2jk9g5w
The Shape of Water
Down Darker Trails
Call of Cthulhu in the Old West!
Call of Cthulhu document wallet
, handmade from real leather, equipped with multiple pockets and embossed with one of 3 designs.
Lovecraftian horror creeps into AMC's The Ballad of Black Tom
Achtung! Cthulhu Living Campaign!
https://www.modiphius.net/collections/achtung-cthulhu
Yog-Sothoth article on the campaign
MUP Fundraiser!
Thanks to everyone who has donated to the Con fund. We have reached to nearly $800, and the scenario by Keeper Jon will be released once the final touches are complete.
Here's a preview of the scenario!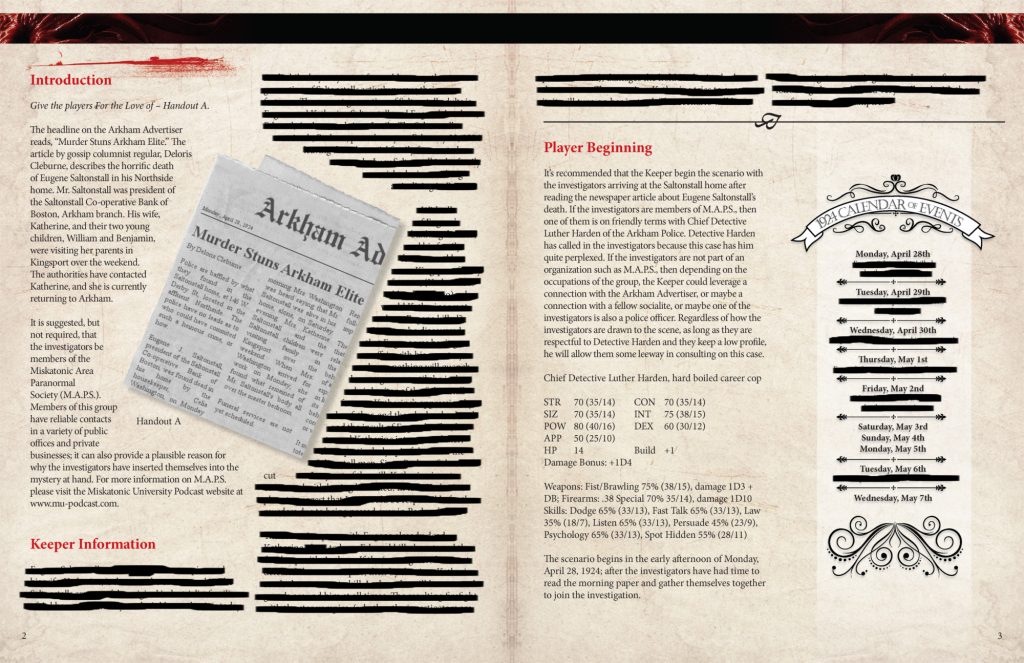 Card Catalog
And from the Graham Annex of the Orne Library, we have this wonderful resource for historic menus and recipes.
http://www.theoldfoodie.com/
The
translations of the menu from the Ceylon Dinner
are particularly good.
Topic
We talk about our expectations of the con, and
the panels that we'll either be on
or intent to attend.
Murf mentions a poster by artist Nick Gucker that he wants to get. Behold,
The Cats of Ulthar