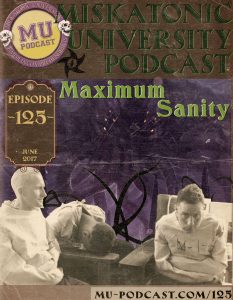 This episode, Jon and Chad talk to Max (a.k.a. Mahaffa on the forums), a regular Keeper and player on Skype of Cthulhu who also serves as President of
Promethean Games Inc.
We discuss a mélange of topics, including Chaosium's new licensing structure, thoughts on Call of Cthulhu sanity mechanics, and the search for new ways to get investigators involved in scenarios. This episode was recorded on, June 12, 2017.
Campus Crier
Chaosium launches
new licensing policies
.
The licenses fall into three tiers:
Fan-generated material for non-commercial use.
A Limited License, which allows small publishers and individuals to sell fanzines, convention scenarios, and one-off books if the gross sales revenue does not exceed $2,000 per year. Significant: "You cannot crowdfund (e.g. Kickstarter) products covered under the Small Publisher Limited License."
Commercial License. This is for established companies with a proven track record, and is "very rarely" given to individuals. A change was made to the posted language for clarity: In general, Chaosium collects a percentage of gross sales as a royalty, and under certain circumstances may also require an advance on royalties. The exact percentage and dollar amounts are only negotiated after we have seen what a company is proposing to do," the text now reads (bold added to emphasize what's new). And a further clarification was made on YSDC and sent to us to share: "We have the advance on royalties as an option for licensees we haven't worked with before, and for foreign language translations, particularly fiction. For crowdfunding e.g. Kickstarter, we require our royalties to be paid 10 days after the projects funds come through."
Some people we spoke with mentioned that Chaosium's licensing specifications are more stringent than other publishers, and this could mean projects are taken to other companies. Some have also said that these conditions seem fair and appreciate the clarity. Not allowing small creators to do Kickstarters could mean less commercial experimentation in Call of Cthulhu, but also more control over quality.
Dean Englehardt of [url=
http://Dean's
post:
https://cthulhureborn.wordpress.com/
]Cthulhu Reborn[/url] has been vocal in airing concerns about how the new rules affect small publishers who would not qualify for a commercial license. In a YSDC thread,
Dean argued
:
"The reason I find this an unusual policy decision is that it somewhat goes against the entire reason that Kickstarter and similar platforms exist -- which is to allow people who don't have a lot of starting capital to get a start. By taking that option off the table for people starting out in publishing, Chaosium are basically making people put up their own starting capital, get established as a company, and get a few titles out. After they are already established, KS is an option -- but by that stage, the company should already *have* capital, so would have less need of it."
In the discussion, Chaosium President Rick Meints
made this statement
:
"Most solicitations for licenses are simple emails that basically say "hey, I want too publish X, can I get your permission (or do I need your permission). They are mainly from individuals we have never heard of, nor worked with before. A few have good ideas, and many don't. Chaosium only has so much time and resource to spend on licensing those sorts of things. We're fine with individuals who want to do very limited things for little money, like a low priced PDF on DTRPG, or something they want to share for free. We make it simple for them to get a license. For more commercial efforts, we are investing our time and resources, mainly because we want our commercial licensees to be a success, and we have to pick and choose those more carefully."
You can watch Jeff Richards discussing the point about not allowing Kickstarters for small publishing license during his recent interview on '
Legends of Tabletop
'.
Cthulhu Dark update:
New stretch goals:: a Cthulhu Dark mini-campaign in London 1851, by Scott Dorward, one of the writers for Call of Cthulhu Seventh Edition. It's called Now We Are The Sons of God and it has three parts, all exploring different parts of Victorian London.
Between Twilight and Dawn -
did not fund
.
A post-script from Oscar on the updates thread: "What will happen to this collection? At the moment we're not entirely sure. We're taking two weeks to step back, work on other projects, and let the dust settle before making any decisions about the collection. We have every confidence that this is a great collection and one that deserves a moment in the sun, but the fates have spoken and that time is not now. Maybe one day, when the stars are right. To those who really wanted to see this book produced, we're sorry it didn't work out that way."
More
Chaosium News
, from Michael O'Brien:
"Chaosium is working on a new Miskatonic University board game with German design legend Reiner Knizia. We had fun putting the prototype through its paces at the Chaosium booth at UK Games Expo last weekend. Highly positive reactions all round ("very Call of Cthulhu" was the unanimous consensus), and some useful feedback—our board games editor Susan is now working through some tweaks with Call of Cthulhu line editor Mike, and the designer himself Reiner Knizia. We'll be Kickstarting this game later in the year..."
Listener Feedback
Matt Martinez on G+
:
Lamentations of the Flame Princess was mentioned in the "Sanecdotes" episode of the podcast, but it does not actually have sanity mechanics. In fact, creator/designer James Raggi has some particular feelings about them. "If you have any sort of sanity or fright mechanic that applies to player characters, your idea is already very bad. Throw it away and start over."
Trevor Hirst on G+
Roll sanity first! Gah! That is so smart. Great show today....
I don't know if I heard it on a podcast, saw it in the rules, or what, but a cool thing to use the d100 random sanity table for is character creation. You pre roll insanity ( like eating dirt, or obsessive nose picking). The player has to describe what thing happened in his backstory that will make him want to eat dirt when he gets unhinged later during the game. Fun!
Topics
"THE SOUNDING BOARD," with Max
CORRECTION: Temporary Insanity results in CoC are not only about random tables. Sorry for misrepresenting at :53, :58, and 1:03 of Episode 124!
WRONG! :53 "CHILL is kind of like Call of Cthulhu where you
go with a random result
." WRONG!
WRONGish! :58 "instead of
eating dirt or random phobias
that we see in Call of Cthulhu as a table, you'll see things like random acts of aggression..." WRONGish!
WRONGish! 1:03 "Makes more sense than someone encountering a monster and something unrelated happens off of a
random table
." WRONGish!