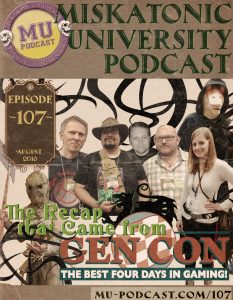 In episode 107, Jon, Chad and Dan are joined by Brian Sammons to talk about some upcoming book projects he's involved in, as well as Dan's GenCon 2016 recap. This episode was recorded on August 15th, 2016.
Campus Crier
Card Catalog
From Graham (forum post dated Jul 29, 2016):
A trio of websites covering the many Merchant Ships (Freight/Passenger) built under the United States War Emergency Shipbuilding Program in WWI.
Feedback:
Canageek shares a tip regarding a great resource,
The great detectives of old time radio.
Jaymz Clemens left us a really fun liner that mentions the
Mysterious Universe Podcast
.
Golden Goblin Spotlight
Heroes of Red Hook-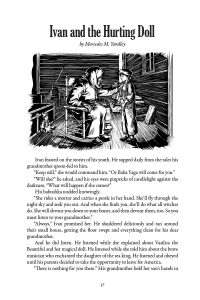 Formal layout for this project is complete!
Ian MacLean is working on our interior art, and while progress is good, it will take time to draw eighteen quality interior illustrations. As the illustrations are completed they'll be dropped into the first page of each story, depicting a scene from early in that story's narrative (so there won't be any spoilers)
Another item that might be of interest, we decided quite last minute to add a little extra content to the book. At the end of each story is now listed a From The Author note, where each author talks a little bit about the story they've written (their inspiration, the history behind it, their process, etc...). I'd like to thank the authors for agreeing to share their thoughts with us, and for getting these back to us as quickly as they did. We hope you'll enjoy this addition to the manuscript.
Tales of the Caribbean
First off, interior art is now 100% complete and in house.
LAYOUT HAS BEGUN!
Lisa Padol is making great progress on setting these scenarios up for layout and emailing them to Mark Shireman. Mark has just completed laying out a fiction project for us as well, so momentum is high. Currently two of the seven scenarios are in layout, with a third being sent to him later today.
What makes this truly amazing is that this is the VERY FIRST TIME this project is ahead of schedule.
Jon points out the availability of
Legends of New Orleans- PDF extra for Tales of the Crescent City
Topics
Brian's book project-
Dark Regions Press
soon to
participate in group IndieGoGo "Grab-Bag" campaign
, including the two that Brian edited-
Return of the Old Ones: Apocalyptic Lovecraftian Horror
The Children of Gla'aki: A Tribute to Ramsey Campbell's Great Old One
The campaign will also include
You, Human: An Anthology of Dark Science Fiction
Edited by Michael Bailey
The IndieGoGo campaign will launch on August 23rd.
Dan's GenCon recap
Chaosium:
All CoC books in hardcover, full color
All books will come with PDF codes
Tales of Sandy Peterson
For the curious, the young woman on the right of the show notes image is Grace, Dan's friend that was mentioned in the show.