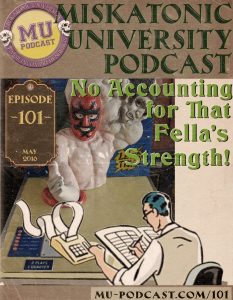 This week, Keepers Dan, Murf and Chad test their Might on the Bend Bars/Lift Gates chart to see if they have to muscle to pull off this episode. We also begin our look at lesser used skills and what they can bring to the game, starting with Accounting. We also have a fun time when Dan shares his one complaint about 7e and apparently blows Chad and Murf's minds.
This episode was recorded on May 30th, 2016.
Campus Crier

The Campus Crier is brought to you by our sponsor: Golden Goblin Press!
Convicts Have Broken Loose at Cthulhu Reborn!
Convicts & Cthulhu, the Australia as a penal colony source book has just been released for
download via RPGNow
. This is a huge 96 page volume that gives Keepers all they need to bring their players to a setting not addressed in Call of Cthulhu before!
Bundle of Holding had a Pulp Adventure bundle
. Apologies for the delay in the episode, resulting in this bundle already being finished.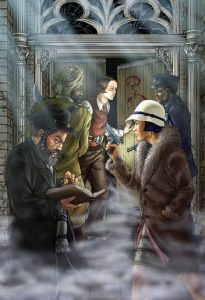 Cover artist for the upcoming Golden Goblin title, Heroes of Red Hook, Ian MacLean, mentioned that the image we had of the cover was a little off on the color spectrum. He sent in a more accurate version of what he created for the book.
Topics
Character Creation: Strength
This week, we're covering the Strength characteristic - what it means, its various roles in the game and what happens when you fail a STR check.
Forgotten Skills: Accounting
Moving ahead with our series on lesser-used skills in Call of Cthulhu, we talk about how to apply Accounting
In the conversation, Chad brings up the long running radio show,
Yours Truly, Johnny Dollar
. A program about the adventures of "the man with the action-packed expense account, America's fabulous freelance insurance investigator, Johnny Dollar"