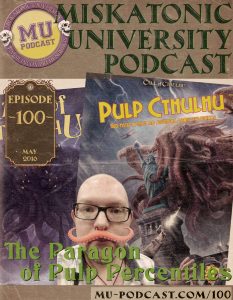 Episode 100 has finally arrived!

In this episode we have Call of Cthulhu Line Lead for Chaosium, Mike Mason. We talk about all the great new stuff that has been coming out, from 7th Edition reaching doorsteps around the world, to Pulp Cthulhu blowing up the digital venues.
This episode was recorded on May 22, 2016.
Campus Crier
The Campus Crier is brought to you by our new sponsor:
Golden Goblin Press
!
7th Edition backers have gotten access to the
Pulp Cthulhu
PDF! We cover both of these huge release with Mike in the main topic.
There are about two weeks left at the time of recording for the Kickstarter for
Age of Cthulhu 9: The Lost Expedition
. Two stretch goals have been cleared: Backers will receive a special PDF booklet with guidelines for running The Lost Expedition with the upcoming Pulp Cthulhu rules from Chaosium. Plus they'll receive a PDF with DCC stats for 10 Cthulhu mythos creatures.
The very first round of delivery for
World War Cthulhu Cold War
is complete backers have received a copy of the core setting book in PDF.
In other news, The Miskatonic University Podcast celebrates its 100th episode, just 4 years after the show launched in March, 2012. Congratulations, Pods!
And to mark the beginning of a new chapter in the show, we're making a few minor changes to our program. For one thing, we're going to try going to a weekly schedule. The plan is to make the shows shorter, around an hour long, but densely packed with news and topics.
Yes, and speaking of topics, we're going to need your help. A weekly schedule means we'll burn through a lot of ideas fast. Please help us out, MU-Nation - and suggest scads of topics for us to tackle. We've got some in the pipeline, but listener ideas always tend to be top shelf stuff.
Golden Goblin Spotlight-
Dread Shadows in Paradise, Digital Stretch Goal Release!
The day has come to receive your very first reward for
this Kickstarter
, the digital version of the fiction collection Dread Shadows in Paradise!
Available in PDF, ePub and Mobi
Cryptocurium Spotlight-
The contents of the
June Parcel of Terror
Creepshow box have been revealed.
Feedback
We play voicemails from the following community members-
Doctor Bob, EddyPo, Gladius, and "Gary in Vermont"
Thank you all for calling in your thoughts!
Card Catalog-
Graham-
Hi Guys. Found
this art blog
which features a number of interesting drawings of Lovecraftian beasties. The image of an Elder Thing solving Rubik's cubes is well worth seeing.
http://kurt-komoda.blogspot.com.au/
This page may
be Dan's favorite Nightgaunt ever!
Topic 1
7th Edition
- what's it like to see this thing in print? How has response been?
The Good Friends of Jackson Elias reveal the secret history of Call of Cthulhu 7th edition in
episodes 78
and 79
.
A Time to Harvest
How did you react to the geek and sundry articles
about Chaosium
and then announcing that Call of Cthulhu was the
best RPG of all time
?
Topic 2
Pulp Cthulhu - holy crap, it's (kinda) finished!
Questions from listeners for Mike:
Sean wants to know if Mike fanzine "The Whisperer" might ever be available for public consumption. Is there anything in 7e that came out of those writings?
Badger wants to know about plans for re-releasing the old Lovecraft Country series, and what kind of changes or additions might be included?