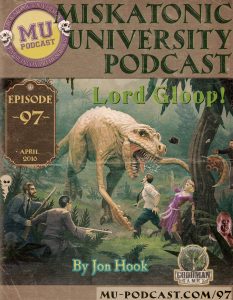 Episode 97 brings together Keepers Jon, Murf, Dan and special guest, Keeper Badger! We cover news and a Bestiary where we talk about the charismatic side of the squidgy goop monsters, the Shoggoth Lord!
This episode was recorded on March 28, 2016.
This episode is a long time coming. We originally had 97 in the can back in February, but that audio was completely hosed. Then we had scheduling issues to get back together for re-recording. We're still not completely free of the gremlins, as you'll hear in the audio half way though. New hardware is being appraised to fix this. Chad was actually on the original recording with Badger, but sadly he was unavailable for the re-do. But Murf was able to come in and make it a cast of four on this one.
Campus Crier
Chaosium joins
Free RPG Day 2016 with a new Call of Cthulhu scenario
by Sandy Petersen!
The
H.P. Lovecraft Birthplace Marker
has been placed near the location where HPL was born.
The 7e boats are on the way!
Australia - CMA CGM VERDI as arrived in Sidney!
Canada/United States - SEATTLE EXPRESS has arrived in Vancouver!
United Kingdom -
NYK HERMES
should reach Southampton this coming weekend!
Long-lost Lovecraft manuscript penned for Houdini found
. The
manuscript for The Cancer of Superstition
, requested shortly before escapologist's death, is discovered in memorabilia collection.
This collection is to be
auctioned off on April 9, 2016
Meet Me '
At the Mountains of Madness
' March 25
on Steam
The Things We Leave Behind
Kickstarter is progressing well, with Badger doing the book layout.
Keeper News-
Jon has
a new book
he didn't tell us about! The big jerk!
Age of Cthulhu 9:
The Lost Expedition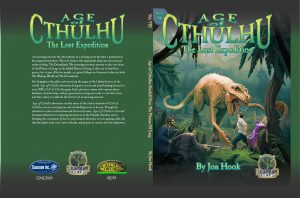 Deep in the Gobi Desert, the investigators discover a strange artifact amidst primordial fossils. The alien device is a gateway to a conduit to travel throughout the cosmos, known as The Great White Space. The investigators are then propelled to an alien world ruled by the Elder Things, a strange alien race of macabre scientists. Desperate to find a way home, the investigators must survive a hostile and alien world filled with mutant dinosaurs and the Elder Thing's amorphous and putrid slave-beasts, the shoggoths!
Rules Set: Call of Cthulhu, Seventh Edition
Feedback-
We hear back from our buddy Brian in MA!
Cryptocurium Spotlight
The
April Edition Parcel of Terror
is a blind box!
Topic Bestiary -
Shoggoths… oh how we like the living slime!
Things that were mentioned in the rambling discussion...
Shoggoth Lord Drug Lords!
Phantoms by Dean Koontz
Phantoms- The
woefully inadequate
film adaptation of the novel.