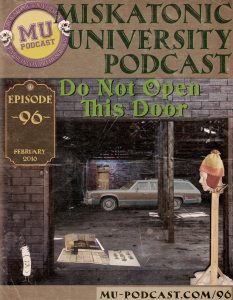 Episode 96 brings in all four hosts for an examination of the social skills in the Call of Cthulhu 7th Edition Rules as Written. In this discussion, we come to a realization on an aspect of Pushing that's written down, but we hadn't considered before. We also have a chat about using other things for scenario seeds, like weird dreams and actual experiences that can be mined for ideas.
This episode was recorded on February 22, 2016.
Campus Crier
Cult of Chaos event fliers are now
available on the Chaosium website
!
These one page fliers are available in both color and black and white.
H.P. Lovecraft Birthplace Marker
Kickstarter
by NecronomiCon PVD
The panthery pantherness of the Conan RPG
slayed the funding goa
l in 4 hours.
Sandy Petersen is Attacking Pathfinder!
Petersen Games is releasing its first RPG product! It's a new project titled Sandy Petersen's Cthulhu Mythos for Pathfinder where over +100 Cthulhu entities, as well as rules for bringing Lovecraft (from the foremost experts of it) to the High Fantasy/Sword and Sorcery world of Pathfinder.
Not only that, but all of our miniatures are becoming available as sets to be accommodating to any game master. This means that if you're a Pathfinder fan, then you are only one Book away from using your miniatures to use in your next campaign!
Also, if you just wanted to grab another box of Ghouls, or Deep Ones. This is a great time to jump in. We're making these sets available in this unique format only for this project!
Cthulhu Wars figurines are finally shipping for backers of
Dark Regions Press's World War Cthuhu IndieGoGo
campaign.
First Person Lovecraftian short film
9 minutes of Investigator fun!
Lovecraft Country novel brings out the horror in Human hate.
Seattle Times
Barnes & Noble
AV Club
CoC 7e Kickstarter update -
I held off sending the update over the weekend because I expected an update from the printers on the departure of the books. Since I am still waiting for an update from them all I know is that the books are in Hong Kong getting ready to depart. Without further info I didn't want to wait any longer before publishing this update. Work has continued on a number of things though.
The Premium Temple Edition books are about to enter production for our top backers.
Final versions of the PDFs for the Keeper Rulebook and Investigator Handbook were made available.
Pulp Cthulhu art has been coming in, and the book has had some layout work done for the sections with completed art.
The second shipment items
Items like the Card Decks, Book Plates, Bookmarks, Stratigraph, and similar are ready to print. Once we have paid the massive shipping expenses on the first shipment of items we will then start spending money on the second shipment of items. The dice and Innsmouth Gold are all done and in the warehouse and will be part of the second shipment. In short, we sincerely wish we had enough money to print and ship everything all at once, but that just isn't the case. We need to do this in two phases as we manage expenses and revenue. An important part of that is the revenue we will get from the regular sale of the
Keeper Rulebook
,
Investigator handbook
,
Keeper's Pack
,
Petersen Guide
, and
Nameless Horrors
after
the backers have been sent theirs from the regional warehouses.
Punktown Cthulhu update
: finally. Maybe 3-4 months turnaround until they can ship?
Jon Reviews -
The Shadow out of Providence
Keeper News-
There's
a gaming store in Sioux Falls, SD
, and a bi-weekly CoC game already there!
*Update* Dan is doing character creation and joining them on March 9.
There's also a con coming to town!
http://www.siouxpercon.com/
New store in Lufkin as well, with an interesting business model...
http://gamersandglam.com/
Feedback-
Voicemail from Brian in MA!
Enjoy the Google transcription:
hey guys it's brian over here in massachusetts i just got done listening to podcasts episode 95 + regarding octon chris hulu elder god like i believe that is going to be status doubt for call of chris to lou 6th edition as well as the savage world's system i don't have the screen image in front of me but i believe i read that i don't have it yet so i can verify that 100% so you might want to double check me but i believe i remember reading somewhere online that it is being status out for 6 addition colors go through as well as the savage world system so okay just wanted to call him with that say go pods and looking forward to your next episode okay take care bye bye
Cryptocurium Spotlight
The
March Edition of the Parcel of Terror
is the beginning of a new series of wall plaques and magnets!
Topic 1-
Forum note from Mike Mason:
PvP - see 7e Rulebook page 60 - Interpersonal Skills: Disambiguation.

This covers PvP social skill rolls and clears up any ambiguity.

Also, in 7e, each skill in Chapter 4: skills has details of suggested opposing skills. You may want to use this a basis if you discuss this topic again.

Cheers

Mike
Charm p60
Fast Talk p65
Intimidate p67
Persuade p72
Difficulty levels p94
Topic 2 -
Personal scares, dreams and nightmares as scenario fodder.
Murph: Blue grass landscape, high school classmate's talking head on a pike. Guilt over killing the guy.
Nicotine nightmare: walking through high school, finds cigarettes in pocket, then sees friend - who is a giant cigarette. Caught smoking by wife.
Jon: nightmare of abandonment… vacation dream as a kid, traveling with go carts, visit weird house, family leaves me behind in the house… alone
Chad: real story, broke into factory… "Do Not Open this Door"
The Reply All podcast goes urban spelunking
Jon had a story of searching the "drainage" system of a castle off the Rhine River in Germany. (We all know it was the sewer)