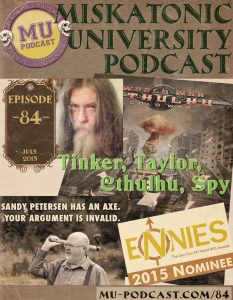 This episode, we're infiltrating clandestine operations of an allied force to expose black ops of World War Cthulhu: Cold War. Agent Scott Dorward of the non-existent MI6 agency goes rogue and leaks a dossier. Is he a turned asset or just a pwn in a counterintelligence plot?
This episode was recorded on July 12, 2015.
Campus Crier:
There's a new Q&A thread on YSDC,
Ask Sandy
, where you can ask questions and read answers from Sandy Pertersen on a variety of topics.
Pelgrane Press has announced
Cthulhu Apocalypse, The Doomsday Edition
, which gathers the previously released
Apocalypse Machine
, the
Dead White World
, and
Slaves of the Mother
and adds on eight new scenarios.
Check out a
text interview
with Greg Stafford over IRC at RPG.net
Topic
We're mainly talking about
World War Cthulhu: Cold War
in this episode.
Some references along the way include:
Don't Look Now and Other Stories
Sandbaggers: E01
Callan
, another great spy fiction resource.