Oct 16, 2018
Podcast: Play in new window | Download (Duration: 12:23 — 11.3MB)
Subscribe: Apple Podcasts | Android | Google Podcasts | RSS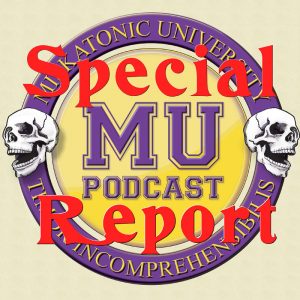 Many in this community have heard news that Chaosium founder Greg Stafford passed away on October 11 at the age of 70. He founded the company in 1975, and was also designer for Pendragon, co-designer of RuneQuest, Ghostbusters, Prince Valiant and HeroQuest, as well as founding Chaosium and Issaries. Our thoughts and condolences go out to friends and family at this difficult time.
There is a condolence thread on the Chaosium site, which you can read or contribute to here.
We collected a few messages of condolence from people in the community, which we play in this short special report.
Thank you very much to Chris Spivey, David Larkins, Scott Dorward and Lynne Hardy for sending these special messages on such short notice.
Here's the quote that David Larkins sent from a Gen Con 2014 panel on Gaming as Mythic Exploration:
"For me, we are all mythological creatures. We all have some part of ourselves that we're not aware of and mythology is a language. It's like a sense like sight and smell and sound. Unfortunately, we've lost most of it these days. It's been learned—out of us. But, to me, role playing games are a way to interact with that. We have an unconscious ability to deal with myths. They have meaning. They have meaning that we don't understand. They have intuitive meaning. They have obvious meaning. They have storytelling medium. A good game is one that taps into all of these things. I think every roleplaying game in which you make up and create an imaginary character activates that mythological self. The best games are the ones that fulfill that hunger within us."
We may add other messages later in Episode 158, which we hope to air next week on October 22. If you want to add your thoughts about how Greg Stafford's legacy affected you, or just send a message of condolence, please feel free to leave your own voice message on Speakpipe via the right-hand tab on this page, or as an attachment in an email to mup.feedback@gmail.com.