Nov 14, 2017
Podcast: Play in new window | Download (Duration: 12:30 — 6.5MB)
Subscribe: Apple Podcasts | Android | Google Podcasts | RSS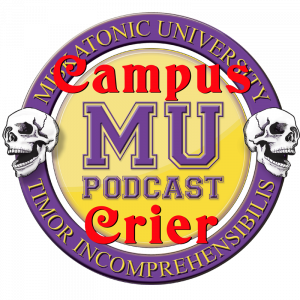 Keeper Chad gives a Campus Crier insert for the feed to keep the content rolling while we put the next episode together. We'll be back next time with a full show. This episode was recorded on November 13, 2017.
● The Delta Green Shotgun Scenario Contest has been announced – This year once again the requested length is 1500 words. The last day for submissions is Saturday, December 9, 2017.
You can submit as many Shotgun Scenarios as you wish, by the way. You can also write longer than 1500 words, but if you go over that amount, when the community votes, each vote only counts as half a vote. It's not worth it, folks. Learn how to write to spec. It makes your editors happy.
● Speaking of writing contests, Chaosium has put out the word on its Cult of Chaos mailing list that that they are seeking scenarios for the 2018 Cult of Chaos Convention Scenario Competition. They want, and I quote engaging and dramatic convention scenarios dreamt up by the mind of the Cult of Chaos. This is your opportunity to share your experience and writing skills, and get your scenario played around the world as official Chaosium convention games. They are looking for scenarios that can can be run in a 3.5 to 4 hours slot and playable by up to 6 players. Ideally, scenarios should be set in the 1920s, 1930s, or modern day, but we are happy to see other time periods too. Pre-generated investigators should also be included with the scenario. Length wise, each scenario should plan on approximately 8,000-12,000 words maximum. The deadline for submitting pitches is December 1st, 2017.
● From Modiphius, a new Achtung Cthulhu supplement: Code of Honour: Zero Point 1942 – this takes us to Istanbul in 1942. At that time the City of Seven Hills is a neutral city, packed with spies. Nazis, Soviets, the Brits and the Yanks, the Japanese and a host of other nations, all waging a deadly war of wits against a backdrop of cocktail bars and polite smiles. While Turkey desperately tries to stay out of the war, the Führer's armies mass less than a hundred miles away.
● Also from Modiphius – their Entertainment department is presenting a FREE short teaser from its forthcoming Achtung! Cthulhu Audio Adventure series. The full 30 minute pilot is due to be released shortly, followed by a ten part series of World War Two audio adventure!
● The Delta Green: Handler's Guide is out now in PDF.
● Plus three new standalone scenarios for Delta Green have been released since the last Crier
1) "Kali-Ghati"
"The Agents are soldiers, intelligence officers, federal agents or civilian contractors among the U.S. forces in Afghanistan."
2) "Music From a Darkened Room" — a horrifyingly haunting scenario for Delta Green
3) "Extremophilia" — a terrifying scenario for Delta Green: The Role-Playing Game
● For Pelgrane's one-on-one Gumshoe game Cthulhu Confidential, "High Voltage Kill" a Spine-Tingling L.A. Mythos Noir from the Casefiles of Dex Raymond, by Robin Laws.
● Streets of Arkham, an expansion for Mansions of Madness
● Sandy Petersen's scenario thing is out (sorry, can't find link, but it's probably in Ab Chaos)
● Dave Sokolowski's "Sun Spots": Chaosium is pleased our friends at Weird8 have recently released the licensed Call of Cthulhu adventure Sun Spots in PDF on DriveThruRPG. Funded last year via Kickstarter at nearly $16k with 533 backers, Sun Spots was originally written by Dave Sokolowski nearly ten years ago under the editorial guidance of Cthulhu-maestro Keith "Doc" Herber. This was for an Old Ones-themed Call of Cthulhu supplement Herber was planning to bring out through his imprint Miskatonic River Press.
● YSDC has announced its Secret Shoggoth gift exchange, and you do not have much more time to jump in on this. If you are a YSDC member jump on the site, find out how to participate, and do it by this Friday, November 17.
● Backers of Golden Goblin Press's Cold Warning Kickstarter have received their print copies, those who backed at that level. The stretch goals for that campaign are in the works, with Riot at Red Plank in the editing stages and Riding the Northbound undergoing rewrites and expansion.
● Sentinel Hill Press is editing text of THE DARE, in part based on some feedback from backers who got to look at a preview. Ian MacLean is busy art, including a final version of the cover.
● EXTRA LIFE brought in a tidy sum of 2300 in donations for the Children's Miracle Network at CarnageCon in the first weekend of November. There was a raffle and a high-rotation gaming session, and a Star Wars LARP. Coming up on November 17, they will be streaming live on twitch.tv/froggodgames from 6 PM EST on Nov. 17 until 6 PM on Saturday. Between midnight and 6 AM EST, during a Down Darker Trails scenario, they will be giving away three PDFs from us: HPL's CoC for Beginning Readers, a 7th Ed. Rulebook, and S. Peterson's Guide to Lovecraftian Horror. Every donation of $1 or more enters you to win one of these prizes. In addition, they have prizes from the H. P. Lovecraft Historical Society, Squamous Studios (Feed the Shoggoth!), Frog God Games, Gallant Knight Games, Pacesetter Games and Kobold Press. In addition to winning fabulous prizes and helping out the Children's Miracle Network Hospitals, with each donation, you can change the game. Add new monsters, spring a trap, locate a secret door, provide some sanity restoration…anything is possible when you all come together in support of this great charity. Donations to: https://goo.gl/bU82Ja.
● A book of scenarios by the name of Petersen's Abominations: Five Epic Tales of Modern Horror for Call of Cthulhu – is now heading to layout. This is the aforementioned book of Sandy's work that Mike Mason helped to shape and edit. It features "The Derelict" from last year's Free RPG Day (with all-new layout and art), and four more never-published-before scenarios. SLated for release in the first quarter of next year.
● Next we have a new Kickstarter from Sandy Peterson Games, called The Evil High Priest- Awaken your Monstrous Master! This is designed by Lincoln Petersen, son of Sandy.
● The New Reanimator Movie Gets an Official Title. That title, wait for it, is Herbert West: Reanimator.
This film, with zero connection to the Jeffrey Combs join of yesteryear, is being produced by Isle Empire Films, and – is meant to be a more faithful retelling of Lovecraft's short story of the same name, Herbert West: Reanimator.
● The video game 'Call of Cthulhu: Dark Corners of the Earth' Gets New Life on GOG.com. The game was well received by most critics, but had only meek commercial success when it was released, and subsequent sequels planned by Headfirst were canned. So the game is already available on Steam, but there have been some compatibility issues, so GOG went through the code and fixed things up to allow for contemporary PCs to run it properly.