Feb 3, 2013
Podcast: Play in new window | Download (Duration: 1:23:17 — 77.0MB)
Subscribe: Apple Podcasts | Android | Google Podcasts | RSS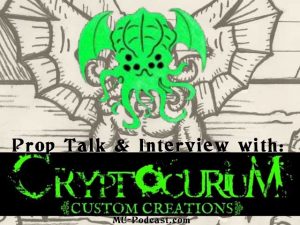 In Episode 24, we're down to a skeleton crew due to a couple of pretty nasty colds. But Keepers Chad and Murph forge on, with a show dedicated to props and handouts. To kick it off, we cut the ribbon on our new Pickman's Art Institute segment, with special guest and prop-master Jason McKittrick. And this show has our final 7th Edition segment, in which we discuss an MUP favorite — chase rules.
Campus Crier
• We take a moment to honor the life and achievements of Lynn Willis, who passed away on January 18th after a long health battle.
Here are some links to thoughtful obituaries.
Charlie Krank and Greg Stafford
Paul of Cthulhu
Bret Kramer
And here are links to forum threads where you can add your own tributes to this founding father of Call of Cthulhu.
• Announcing our Build an Elder God contest winner!
The cultists have spoken! The voting is in, and the winner is Agmar! This being is the creation of Marco Subias, who used Agmar in his Delta Green game, which had taken W Cell to the Dreamlands. Congratulations Marco! Check out his backstory of a human king in the dreamlands under a terrible curse.
Honorable mentions to…
-Clvau Xenthoi – the chaotic bundle of multidimensional energy ribbons by Simon Yee
-Plagiarius – poisonous sharp-toothed larvae with a potent hive mind by Randall Padilla
Another heartfelt thanks to the sponsor of this contest, Signal Fire Studios, and especially Jamie Chambers and Ben Mund.
History Lecture Series
This week, we look at the origin of modern museums and side shows, as Doctor Gerard at the Miskatonic University History Department speaks on the topic of "Doctor Worm and his Cabinet of Curiosities".
7th Edition Segment
This week, we wrapped up our coverage of the 7th Edition playtest with a discussion of one more proposed mechanic: the chase rules.
Pickman's Art Institute
To launch our new prop-focused series, we've got the talented thing-maker Jason McKittrick to talk about his art and how he got into Lovecraftian props. We also rope him into giving us an actual tutorial on how to make prop pages from the Necronomicon, using PDFs that you can download and use in your games.
Jason McKittrick's Deviant Art Page  (The Dunwich Cthulhu Idol that Murph has.)

The Cryptocurium site
Here are the files for creating the Necronomicon page that Jason and Murph discussed.
Main Topic
The main topic is a continuation of the prop theme, in which Murph and Chad talk about how to use props and handouts in your game, working them into the story, and easy ways to get started. Keepers Dan and Jon were pretty disappointed they missed this show, but they'll be back to share their thoughts about props another time.
The HPLHS is a fantastic place to start your prop-making experiments. They have a number of free downloads to start with, along with detailed instructions to make the props as historically accurate as possible.
Cthulhu Reborn also just released their first retail product, which is called Mutable Deceptions, Vol 1: Jazz Age Newspapers
We would also love to hear your ideas for topics for us to talk about. Send us a note directly, or go to the Campus Forum with your ideas!
Here is the discussion thread on the Campus forum, and this is the discussion thread for this podcast posted on the Yog-Sothoth forums.