Jul 18, 2018
Podcast: Play in new window | Download (Duration: 1:31 — 1.7MB)
Subscribe: Apple Podcasts | Android | Google Podcasts | RSS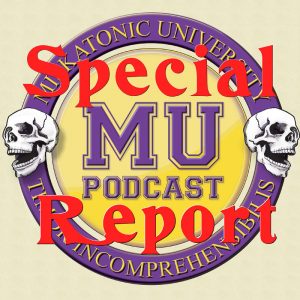 Hello out there MUP Nation!
This is Keeper Dan with a little addendum to our last episode. In the Crier, we were talking about the lovely HPLHS Masks prop sets, and we saw that they showed as sold out.
It turns out that the sold out text is just a coding quirk, and they are in fact not sold out at all! So if you're lamenting the missed chance at a Deluxe Edition or the SUPER Deluxe, then wait patiently, for the Dark Masters at the HPLHS will set their trained shoggoths (who wear little bow ties by the way, it's adorable) after you to purchase these epic pieces worthy of the most stately of collections.
And if you already got the Dark Adventure Radio Theatre, then they do state on their site: "Should you wish to upgrade a Standard or Deluxe edition, we are happy to apply your original purchase price against the upgrade item."
Here are the options-
Masks of Nyarlathotep – Gamer Prop Set (No DART Audio)
$ 95.99
Release August 1, 2018
Dark Adventure Radio Theatre – Masks of Nyarlathotep (Standard Version)
$ 69.95
Release August 1, 2018
Dark Adventure Radio Theatre – Masks of Nyarlathotep Deluxe Edition
Unknown cost
Undetermined Release Date
Masks of Nyarlathotep – Super Deluxe Limited Edition (This has the Deluxe DART and the Gamer Prop Set and MORE!)
Unknown cost
Undetermined Release Date