Feb 19, 2018
Podcast: Play in new window | Download (Duration: 2:03 — 1.3MB)
Subscribe: Android | Google Podcasts | RSS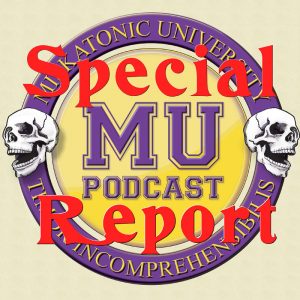 Hello!
As mentioned before, we're making some minor changes to the Miskatonic University Podcast, with a shorter editor-friendly show format. Given the brevity of topic discussion, we'd love to add some little extra audio segments to the shows. So if you have any of your own ideas for 3 to 5 minute segments that you might want to contribute that cover something related to horror and Lovecraft-related game stuff or connections to the Mythos realm in general, please let us know!
No need to pitch strictly self-promotional segments. We cover product news and would be happy to mention your work in the Crier if you have something to promote.
But it would be excellent to stone soup this podcast and bring in other voices from MU Nation. Basically, we're looking or finished pieces that we can drop into the episodes without a whole lot of extra editing on our side, so we can increase the richness of each episode.
What kind of segment, you ask? How about a history snippet about something weird and game-able? Maybe you want to make a creepy 2 minute audio landscape with no words at all. Maybe you want to make a 5-part radio drama about a troupe of Deep Ones who join a circus! Or game book reviews! Or forgotten Mythos Fiction! If something pops to mind and you think you might want to contribute, get in touch with us if you, and we'll work with you on how to shape the idea for our show format and help you get it recorded and set up for broadcast.
looking forward to hearing what might surface from those who heed the call!